2023 FEC Trilogy Camp - Nepal
Event Details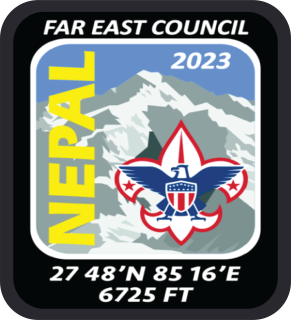 Camp Nepal 2023!!!
23 - 29 July 2023 Kakani Scout Center, Nepal
Welcome to Nepal 2023, a combined partnership of the BSA Far East Council and Nepali Scouts. This week will offer a broad spectrum of Merit Badge activities, short, guided treks at the Kakani Scout Camp nestled in the Himalayas followed by a cultural day exploring the UNESCO World Heritage City Of Bhaktapur. Scouts from various nations and cultural backgrounds will once more come together and celebrate all that Scouting has offered over the last 110 years. Imagine camping near the Himalayas, waking up to see the foothills of this incredible mountain range. Well, make it a reality by attending this amazing camp!! Any adult attending Camp Nepal has to be registered in a paid position with their unit. A Merit Badge Councelor is not considered a paid position. Please register as a Committee Member or other leadership position with your closest unit and complete the Adult Application, Background Check and YPT Training. After that, your Nepal Registration can be verified. If you are not registered in a paid position, your registration can not be validated.
Camp fee includes one night hotel stay and transportation from Airport (Tribhuvan Intl Airport (KTM)) to Hotel, Hotel to Camp, Camp to Airport. As of January, still required a COVID vax record or a negative rapid test to enter the country. Additionally, Nepal requires an entry visa which costs $30 per person, to be paid at the airport, there are pay machines in the arrival lobby and airport workers there to assist with the process. All participants will be responsible for that entry fee, it is not covered by camp costs. Instructions on how to pay the Visa fee and locations in the airport will be on the attachments page of the registration. Please take the time to review that document.
Due to changes in the Habitat for Humanity (HFH) participation rules, there will be no HFH build at this year's camp. We will instead have a tour to the ancient city of Bhaktapur, upon completion, participants will be transported to the airport. Please book your arrival flight to land as late in the afternoon as possible on 7/22 and your departing flight to leave as late in the afternoon as possible (after 3pm) on 7/29, due to the city tour.
Each participant will be required to carry their gear to their campsite, in some cases it may be up to 1/4 mile away. We suggest that you pack minimal, and bring your camping gear in a backpack (Mindeset = High Adventure backpacking). Note that the trails are rough, narrow and luggage may not travel well on them. Closed Toe shoes are MANDATORY at many BSA camps, especially this one. You will be walking on dirt trails which are uneven and can be slippery. Sneakers are not recommended, please bring a good pair of waterproof hiking boots, if possible. We will be in the middle of monsoon season, and it may rain during camp. We should remind our Scouts to wear the right gear — from head to toe — for the activities they're about to enjoy. Due to the rugged nature of Camp Nepal, please ensure that there WILL BE two adult leaders camping with your Troop.
The trip from the hotel to the camp will take approximately 1.5 - 2 hours. A good portion of the road it VERY uneven and bumpy. If you are susceptible to motion sickness, please prepare yourself for a bumpy ride, either motion sickness medicine or another method, once the vehicle starts up the mountain, it will not stop. Be sure to encourage hydration before travel, during travel and throughout camp!
Lastly, The Far East Council Trading Post will be available during the Camp.
O/A Memberss be sure to BRING YOUR SASHES!!
CAMP NEPAL IS OPEN TO ANY SCOUT OR ADULT LEADER (PARTICIPANT) REGISTERED WITH THE FAR EAST COUNCIL, BSA!!
All YOUTH must select Merit Badges from the class listings, during registration. Disclaimer: All Merit Badge Classes are subject to change depending upon the availability of Adult Leaders and Volunteers to teach. Each unit must have appropriate leadership oversight, including proper female to male ratios. All adult leaders may be called upon to volunteer.
Can't make it to camp with your Troop or Crew? No problem! Please let us know!
Provisional Campers will be placed into a special provisional unit for the week.
Provisional parents and volunteer leaders are also welcome to attend.
See all attached documents to help you prepare for camp. For merit badges offered, prerequisites, descriptions and more information:

Please READ the entire contents of the Camp Nepal 2023 Leader's guide, see attachments...
Note that all adult participants must be registered with the BSA, be required to update their Merit Badge counselor status / information, and BSA Medical ABC Form (must be completed by all attendees)
Speaking of advice, here's one more: be sure to use the SAFE checklist in preperation for any Scouting activity.
When & Where
Camp Nepal 2023Council Service Center
Sunday 07-23-2023 3:00 PM JST to
Saturday 07-29-2023 8:00 AM JST