Event Details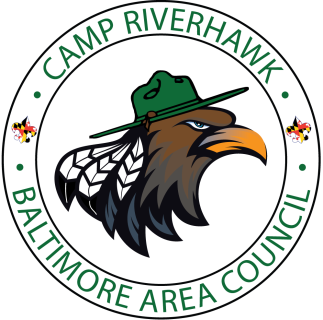 **Registration is now closed. Thank you!
Welcome to Camp Riverhawk 2023!
June 26-30, 2023
Anne Arundel County Fairgrounds
CAMP OVERVIEW
The theme for 2023 Camp Riverhawk is "Cubs in Space!" Many theme related activities are already being planned including, but not limited to, Archery, BBs, Citizenship, Crafts, Fishing, Games, Nature, Service, Skills, Skits, Songs, and… not to mention our plans to just have FUN!!!
We are currently scheduled for one session of Day Camp this year June 26th—30th, 2023 from 8:00am—5:00pm. Camp is held at A.A.Co. Fairgrounds in Crownsville, MD. Please note that camp times have been revised for 2023 to better accommodate working families.
Camper arrival is expected between 7:45am and 8:00am at the den tarp area. Opening ceremonies begin promptly at 8:20am each morning. Pick up of Scouts is directly after closing ceremony, which will end promptly at 4:55pm each afternoon, at the den tarp area. Youth Staff and 5-Day Volunteers are requested to be at camp between 7:30am and 7:45am.
Day Camp will follow all federal, state, and local COVID-19 guidelines to ensure a safe camp.
REGISTRATION PROCESS FOR 2023
Please ensure the following steps are completed to process camp registration.
Registration closes May 14th at 11:59pm.
NEW THIS YEAR: you will upload medical forms directly into our secure registration system. Please ensure you have a completed copy of your medical forms before starting registration. A fillable version of the BSA medical form can be found here.
Electronically complete a BSA Medical Form (doctor signature not required) for each Cub Scout, Tiger Cub, Kids Korner, 5-Day Adult Volunteer, and Camp Aide registrant. Save to your electronic device in preparation for upload. The BSA Medical Form can be found here
Go to the online registration website: https://www.scoutingevent.com/220-campriverhawk
It is not required, but it is recommended to create an account versus registering as a guest
Complete the online registration
Upload BSA Medical Form for each registrant when prompted
Once all registration is complete, submit payment
If you did not receive an email, please check your SPAM/JUNK folder
If you are a 5-Day Adult Volunteer, you are required to submit a copy of your Youth Protection Training for upload here

Any additional related training verification (i.e.: CPR, First Aid, Registered Nurse License, Fishing License, Shooting Sports Certification, etc.) for upload here

If you are a Camp Aide and have any related training certificates such as CPR or First Aid, you may upload here
Early Bird Registration

Jan 1–Feb 28

Regular Registration

March 1–April 30

Late Registration

After April 30—May 14

Cub Scouts

$200

$225

$275

Cub Scout with 5-Day Volunteer

$150

$175

$225

Kids Korner

$20 per day

$20 per day

$20 per day

Tiger (2-Day Program, Weds & Thurs)

$60

$60

$60

Youth Staff

$20

$20

$20

5-Day Volunteer

$0

$0

$0
Camp fees include two (2) camp t-shirts, hat (with those fun curly shoe laces to keep beads attached!), a commemorative event patch for each 5-day attendee and covers the expenses for the use of our camp facilities, event and program equipment, special program guests and other necessary Camp needs.
Note: 5-Day Volunteers receive a $50 discount for each weekly Cub Scout immediate family attendee. This discount does not apply to the Kids Korner, Tiger, or Youth Staff fees.
Camp fees are non-refundable except in cases of emergency. Emergency related refunds require a written request to the Day Camp Director. Each case will be considered on an individual basis at the discretion of the Camp Director and Baltimore Area Council.
PARENT REQUIREMENTS
Please remember that each Cub Scout is required to have an adult come to camp for the "one day required requested day." One-day parents are who we depend on to help fulfill the 2-deep leadership for the den every day of the week. The person who comes as a one-day does not have to be the parent/guardian. We routinely have grandparents, older siblings, cousins, babysitters, etc. As long as they are over 18, approved by the parent/guardian and can walk around in the sun, they are OK. One-day parents are required to bring lunch on the day they attend camp.
All families attending camp are required to attend one of the Orientation Dates the weekend before camp. You need only attend one of these days. This allows families to see the facility, go over the rules and regulations regarding camp, and pick up their camp t-shirts and den assignments.
We also ask that parents assist in either Camp Set-Up or Camp Tear-Down. Many hands make for light work in the construction and break down of camp. You need only attend one of the options. It is also suggested to bring a lunch with you, as well as water and drinks.
Set-Up
Set-up- Saturday, June 24th, 10am to 2pm
Set-up- Sunday, June 25th, 10am to 2pm
Take Down
Take Down- Friday, June 30th, 3pm—7pm
Take Down- Saturday, July 1st, 10am to 11:30am
Camp Orientation
Saturday, June 24th at 2pm or Sunday, June 25th at 2pm @ A.A.Co. Fairgrounds
Day Camp Website: http://www.CampRiverhawk.com
Day Camp Facebook Page: https://www.facebook.com/CampRiverhawk
When & Where
Anne Arundel County Fairgrounds
Monday 06-26-2023 8:00 AM ET to
Friday 06-30-2023 5:00 PM ET