Trappers' Rendezvous 2024
Event Details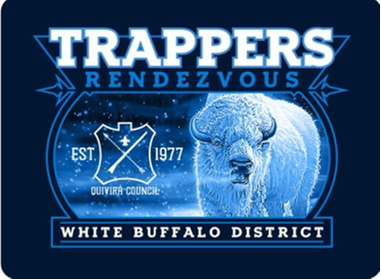 The 47th Annual
TRAPPERS' RENDEZVOUS
January 12-14, 2024
Harvey County Park
$20 per person - Youth or Adult Until Dec 31st
ONLINE REGISTRATION CUT OFF: December 31st 11:59p
$30 per person-Youth or Adult After Dec 31st
REGISTRATIONS AFTER December 31st MUST TAKE PLACE AT THE EVENT!
2nd Yr. Webelos/AOL (In 5th Grade), ScoutsBSA, Venturers and Adult Leaders
Reminder: All Units must still provide a roster listing every youth and adult in attendance when they arrive onsite at check-in. This is to ensure the safety of everyone.
Everyone at Trappers 2024 must be registered and checked in at headquarters.
Do you have Questions?
If so contact us and we will be happy to help:
Event Director: Jamie Coyne jcoyne@starlumber.com
Staff Advisor: Mike Redondo michael.redondo@scouting.org 316.491.2233
Black Pug Questions: D'Kolle Mowery d'kolle.mowery@scouting.org 316.264.3386
* * * REFUND POLICY * * *
Refunds are not available, but fee's may be transferred to another youth or adult attending this event. This is an all-weather event and will not be canceled for any reason. Be Prepared! NOTE: If the event is canceled by a Government agency, refunds will be granted.
Keep up on the latest information and resources for Trappers and White Buffalo District by liking us @: www.facebook.com/TrappersRendezvous & www.facebook.com/WhiteBuffaloDistrict
When & Where
TRAPPERS REGISTRATIONHarvey County Park - West
Friday 01-12-2024 5:00 PM CT to
Sunday 01-14-2024 12:00 PM CT