Camp Kinda-like-a Scouts BSA
Event Details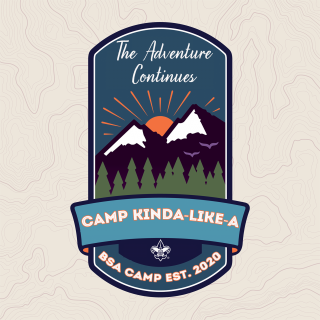 10 Weeks of Scout Program!
Sessions start June 15th Monday-Friday!
For Scouts BSA we will have your normal Camp merit badge classes and more. Scouts from around the country will make up your patrol and you will have a fun-filled week working on advancement, songs, skits, and will Scout On this summer in this all virtual program! We are offering 33 merit badges to choose from along with a first-year Scout program! Please pick 3 merit badges to take through-out the week please be sure that they are during different meeting times.
Basic Daily Schedule (All times are based in Eastern Time Zone)
9:00 AM - 10:30 AM - First Year Camper Program
11:30 AM - 11:45 AM: Scouts BSA Opening Ceremony
12:00 PM - 5:00 PM: Scouts BSA Merit Badges
Evening Programs:
Monday
7:00pm : Special Activity
Tuesday
7:00 pm: Order of the Arrow Social
7:00 pm: Overnight lesson
8:30 pm: Overnight meeting
Wednesday
7:30: Campfire
8:00 - 8:30 pm: Campfire Fireside Chat
Friday
7:00 pm: Special Activity
**For More information or resources, scroll down to the attachments portion of this page.
Welcome letters containing camp information and all zoom links for the week will be emailed out to all families on the Saturday prior to camp.
All Specialty weeks have their own schedule, please see documents attached.
When & Where
Week 1Council Service Center
Monday 06-15-2020 12:00 AM ET to
Friday 06-19-2020 11:59 PM ET
Past
---
Week 2Council Service Center
Monday 06-22-2020 12:00 AM ET to
Monday 06-29-2020 11:59 PM ET
Past
---
Week 3Council Service Center
Monday 06-29-2020 12:00 AM ET to
Friday 07-03-2020 11:59 PM ET
Past
---
Week 4Council Service Center
Monday 07-06-2020 12:00 AM ET to
Friday 07-10-2020 11:59 PM ET
Past
---
Restaurant WeekCouncil Service Center
Monday 07-13-2020 12:00 AM ET to
Friday 07-17-2020 11:59 PM ET
Past
---
Small Boat Sailing Specialty WeekCouncil Service Center
Monday 07-13-2020 12:00 AM ET to
Friday 07-17-2020 11:59 PM ET
Past
---
Week 5Council Service Center
Monday 07-13-2020 12:00 AM ET to
Friday 07-17-2020 11:59 PM ET
Past
---
Small Boat Sailing Specialty WeekCouncil Service Center
Monday 07-20-2020 12:00 AM ET to
Friday 07-24-2020 11:59 PM ET
Past
---
Week 6Council Service Center
Monday 07-20-2020 12:00 AM ET to
Friday 07-24-2020 11:59 PM ET
Past
---
First Class CookingCouncil Service Center
Monday 07-27-2020 12:00 AM ET to
Friday 07-31-2020 11:59 PM ET
Past
---
Week 7Council Service Center
Monday 07-27-2020 12:00 AM ET to
Friday 07-31-2020 11:59 PM ET
Past
---
Week 8Council Service Center
Monday 08-03-2020 12:00 AM ET to
Friday 08-07-2020 11:59 PM ET
Past
---
Trail to EagleCouncil Service Center
Monday 08-10-2020 12:00 AM ET to
Friday 08-21-2020 11:59 PM ET
Past
---
Week 9Council Service Center
Monday 08-10-2020 12:00 AM ET to
Friday 08-14-2020 11:59 PM ET
Past
---
Hamilton WeekCouncil Service Center
Monday 08-17-2020 12:00 AM ET to
Friday 08-21-2020 11:59 PM ET
Past
---
Week 10Council Service Center
Monday 08-17-2020 12:00 AM ET to
Friday 08-21-2020 11:59 PM ET
Past