Camp Kinda-like-a Scouts BSA
Event Details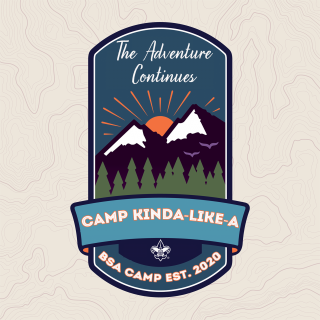 10 Weeks of Scout Program!
Sessions start June 15th Monday-Friday!
For Scouts BSA we will have your normal Camp merit badge classes and more. Scouts from around the country will make up your patrol and you will have a fun filled week working on advancement, songs, skits, and will Scout On this summer in this all virtual program! We are offering 33 merit badges to choose from along with a first year scout program! Please pick 5 merit badges and we will attempt to put you in your top 3.
Basic Daily Schedule ( all times are based in Eastern Time Zone)
8:45am - 8:55am: Cub Scout Flag Raising and Opening
9am - 11am: Cub Scout Adventures
11:30am - 11:45am: Scouts,BSA Opening
12pm - 5pm: Scouts, BSA Merit Badges
Both programs will include:
Special guest speakers, Campfire programs, Cooking, and Camping experiences.
When & Where
Week 1Council Service Center
Monday 06-15-2020 12:00 AM ET to
Friday 06-19-2020 11:59 PM ET
---
Week 2Council Service Center
Monday 06-22-2020 12:00 AM ET to
Friday 06-26-2020 11:59 PM ET
---
Week 3Council Service Center
Monday 06-29-2020 12:00 AM ET to
Friday 07-03-2020 11:59 PM ET
---
Week 4Council Service Center
Monday 07-06-2020 12:00 AM ET to
Friday 07-10-2020 11:59 PM ET
---
Week 5Council Service Center
Monday 07-13-2020 12:00 AM ET to
Friday 07-17-2020 11:59 PM ET
---
Week 6Council Service Center
Monday 07-20-2020 12:00 AM ET to
Friday 07-24-2020 11:59 PM ET
---
Week 7Council Service Center
Monday 07-27-2020 12:00 AM ET to
Friday 07-31-2020 11:59 PM ET
---
Week 8Council Service Center
Monday 08-03-2020 12:00 AM ET to
Friday 08-07-2020 11:59 PM ET
---
Week 9Council Service Center
Monday 08-10-2020 12:00 AM ET to
Friday 08-14-2020 11:59 PM ET
---
Week 10Council Service Center
Monday 08-17-2020 12:00 AM ET to
Friday 08-21-2020 11:59 PM ET