Event Details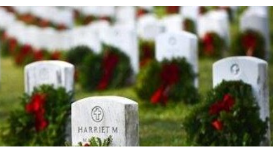 The National "Wreaths Across America Day"
Saturday, December 16, 2023
On this Veterans Day, please remember that there are over 37,000 veterans interred at the Baltimore National Cemetery (BNC), and we want to honor as many veterans as possible with the placement of a wreath this year.
Whether or not you sponsor a wreath, we are inviting you to our ceremony scheduled to begin at 12 noon on Saturday, December 16 with wreath placement immediately following the ceremony. Please join us wearing your complete Scout uniform to make sure our presence is known. We will be retrieving the wreaths on Saturday, January 13, 2024, starting at 10:00 a.m.
If you are considering sponsoring a wreath, the last day to sponsor a wreath for placement at a grave at the BNC is Tuesday, November 28. Please feel free to ask others to do so as well.
If you have a friend or family member interred at the BNC, you may order a "Grave Specific" wreath for you or someone you designate to place specifically on their grave.
Thank you very much for supporting MDBNCB - Baltimore National Cemetery. Please click HERE to sponsor a wreath and to learn more about our mission to Remember, Honor, and Teach. If you have any questions, please contact us at waabaltimorenational@gmail.com.
Howard Weiss
Co-Location Coordinator
MDBNCB - Baltimore National Cemetery

Hosted by: NP
When & Where
When: 12-16-2023 12:00PM to 2:00PM