Event Details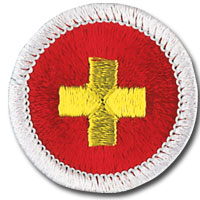 Offering Red Cross CPR and First Aid Training or First Aid Merit Badge or Emergency Prepardness Merit Badge. Come prepared with all pre reqs completed.
Here are the Pre-reqs. for Emergency Preparedness Merit Badge:
1. Earn the First Aid merit badge
2 (c) Meet with and teach your family how to get or build a kit, make a plan, and be informed for the situations on the chart you created for requirement 2b. Complete a family plan. Then meet with your counselor and report on your family meeting, discuss their responses, and share your family plan.
6(c) Find out who is your community's emergency management director and learn what this person does to prevent, protect, mitigate, respond to, and recover from emergency situations in your community. Discuss this information with your counselor, utilizing the information you learned from requirement 2b.
8(b) Prepare a personal emergency service pack for a mobilization call. Prepare a family emergency kit (suitcase or waterproof box) for use by your family in case an emergency evacuation is needed. Explain the needs and uses of the contents.
Here are the prerequisites for First Aid Merit Badge:
1. Demonstrate to your counselor that you have current knowledge of all first-aid requirements for Tenderfoot, Second Class, and First Class ranks.( Be aware that the scout doesn't necessarily have to be 1st class they must possess the knowledge of first aid required of each those rank)
5. Do the following:
(a) Prepare a first-aid kit for your home. Display and discuss its contents with your counselor. ( Be aware that the scout(s) should bring a first aid kit they made to the class to be inspected by the councilor)
(b) With an adult leader, inspect your troop's first-aid kit. Evaluate it for completeness. Report your findings to your counselor and Scout leader.( This is a prereq. a scout master's signature of approval given to the councilor)
When & Where
Merit Badges April 1stAlpine Scout Camp
Saturday 04-01-2023 9:00 AM ET to 6:00 PM ET
---
Red Cross CPR and First Aid April 1stAlpine Scout Camp
Saturday 04-01-2023 9:00 AM ET to 6:00 PM ET
---
Merit Badges February 11thAlpine Scout Camp
Saturday 02-11-2023 9:00 AM ET to 6:00 PM ET
Past