Event Details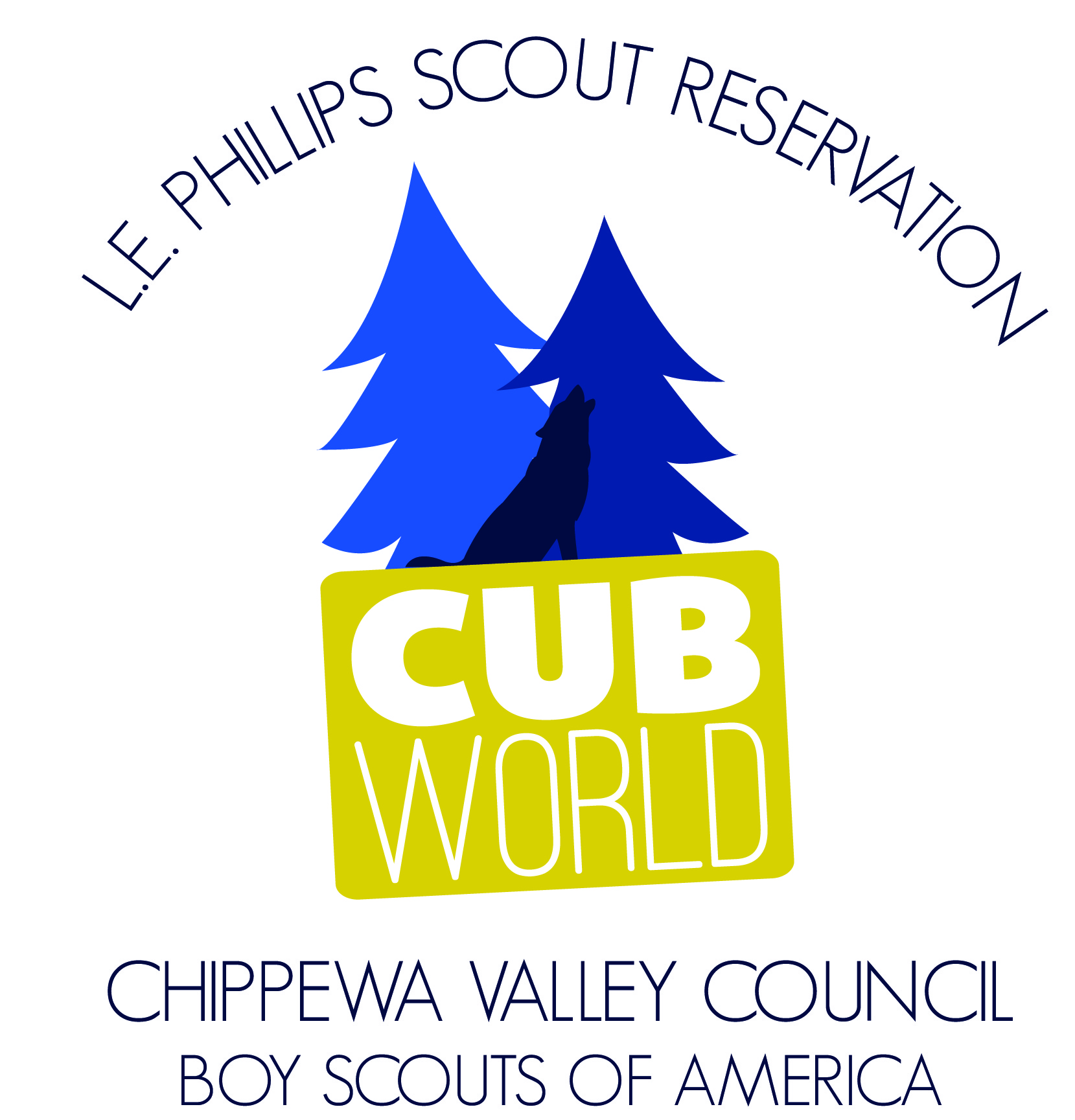 CUB WORLD
2020 Theme:
25th Anniversary
"The Legend of Akela"
THIS IS CUB WORLD
UPDATED 5/6/20
The safety of scouts, scouters, and our staff remains to be our top priority. The Chippewa Valley Council is committed to delivering outdoor programs to the youth of the Chippewa Valley.

We have updated our schedule to allow time for proper sanitation and preparation in between. Sessions are now limited to 50 people. A day camp option has been added.
Housing will be limited to the following:
Western Village- 2 people per cabin
Towers- 3 people per level (6 people per tower)
Loft- 10 people
Tents- We encourage you to bring tents, you'll save $5 per person if you sleep in tent. 1 person per tent.
ABOUT CUB WORLD:
Cub World is a Cub Scout Resident Camp that is part of the L.E. Phillips Scout Reservation's beautiful forest and lake landscape. Many have entered the gates of Cub World to experience the adventure of a summer. Swimming, boating and fishing at Bass Lake!
Themed crafts and nature exploration programs take you all over Cub World. Shoot B.B. guns, compete in rock throwing, and shoot at our archery targets at the Cub World Shooting Sports range.
Learn new outdoor skills and transition from WEBELOS to an Arrow of Light Scout at our Outdoor Skills and Brown Sea Island program. Experience evenings of games and teamwork activities with campfires and camp shows to follow.
Come join us and let the adventure begin!
CHECK-IN TIMES and MEAL SCHEDULE
We look forward to your arrival. Our schedule is designed to ensure that our staff are ready for your arrival. Please do not arrive before your session's check-in time begins.
(A) Sunday – Monday
Sunday: Check-In begins at 8:00 a.m.
Monday: Check-Out 4:00 p.m.
Lunch Sunday thru Lunch Monday
Grab and Go Snack provided upon departure
(B) Thursday "DAY CAMP"
Arrive at 8:00 a.m.
Depart at 4:00 p.m.
Lunch and afternoon snack provided
(C) Friday – Saturday
Friday: Check-In begins 8:00 a.m.
Saturday: Check-Out 4:00 p.m.
Lunch Sunday thru Lunch Monday
Grab and Go Snack provided upon departure
When & Where
Session 4APhillips Scout Reservation
Sunday 07-05-2020 8:00 AM CT to
Monday 07-06-2020 4:00 PM CT
Past
---
Session 4BPhillips Scout Reservation
Friday 07-10-2020 8:00 AM CT to
Saturday 07-11-2020 4:00 PM CT
Past
---
Session 5DPhillips Scout Reservation
Thursday 07-16-2020 8:00 AM CT to 4:00 PM CT
Past
---
Session 5BPhillips Scout Reservation
Friday 07-17-2020 8:00 AM CT to
Saturday 07-18-2020 4:00 PM CT
Past
---
Session 6APhillips Scout Reservation
Sunday 07-19-2020 8:00 AM CT to
Monday 07-20-2020 4:00 PM CT
Past
---
Session 6BPhillips Scout Reservation
Friday 07-24-2020 8:00 AM CT to
Saturday 07-25-2020 4:00 PM CT
Past
---
Session 7APhillips Scout Reservation
Sunday 07-26-2020 8:00 AM CT to
Monday 07-27-2020 4:00 PM CT
Past
---
Session 7DPhillips Scout Reservation
Thursday 07-30-2020 8:00 AM CT to 4:00 PM CT
Past
---
Session 7BPhillips Scout Reservation
Friday 07-31-2020 8:00 AM CT to
Saturday 08-01-2020 4:00 PM CT
Past