OA Summer Camp Ordeal and Brotherhood 2019
Event Details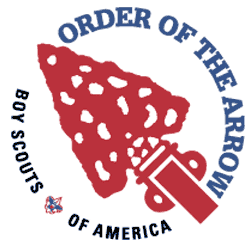 WARNING - From Past Surveys the Ordeal and Brotherhood Process is best completed at Spring or Fall Conference. While we work to provide a good Ordeal and Brotherhood experience at Summer Camp..... service and experiences will never be the same as being surrounded by 150+ Arrowmen. We encourage you to complete your Ordeal and Brotherhood when you can but consider signing up for a conference or joining one as a returning Arrowman.
Let us again congratulate you on having been selected for membership in the Order of the Arrow, Scouting's Brotherhood of Honor Campers. Your fellow Scouts have thought enough of you to elect you to this honor. Now, the next step is up to you. To become a member of our Order, you must participate in the Ordeal Ceremony. This 24-hour ceremony will be a unique experience in your life - one that will remain in your memory for many years.

The ORDEAL, your induction into our Order, does not use embarrassment, games or similar activities. The purposes of the Order of the Arrow, and the fact that it is an honor to which you were selected, imposes on our lodge the responsibility of making sure that your initial contact with us is serious and impressive.

Each ordeal candidate has one year from his election to participate in the Ordeal Ceremony. If you do not attend, your election will be void and you would need to be re-elected another year.
Brotherhood Candidates, please arrive at 8am for service to Camp prior to Lunch. This service is part of the Brotherhood process. The Brotherhood Hike will seal your Brotherhood Process. It is not a test but a guided reflection on what it is to be an Arrowman and the future. The evening closes with the Brotherhood Ceremony. You must be current on your 2019 dues. If you have not paid them use the link below to complete that payment. Annual dues are $15 a year.
To pay your 2019 dues please follow this link: https://scoutingevent.com/620-2019oadues
Please Note: "Camping arrangements are available Thursday night to allow a good nights sleep before returning home Friday morning if you desire at no additional cost"
When & Where
OA Summer Camp Ordeal and Brotherhood - Week 1Ed Bryant Scout Reservation
Wednesday 06-26-2019 5:00 PM CT to
Thursday 06-27-2019 10:00 PM CT
Past
---
OA Summer Camp Ordeal and Brotherhood - Week 2Ed Bryant Scout Reservation
Wednesday 07-03-2019 5:00 PM CT to
Thursday 07-04-2019 10:00 PM CT
Past
---
OA Summer Camp Ordeal and Brotherhood - Week 3Ed Bryant Scout Reservation
Wednesday 07-10-2019 5:00 PM CT to
Thursday 07-11-2019 10:00 PM CT
Past
---
OA Summer Camp Ordeal and Brotherhood - Week 4Ed Bryant Scout Reservation
Wednesday 07-17-2019 5:00 PM CT to
Thursday 07-18-2019 10:00 PM CT
Past
---
OA Summer Camp Ordeal and Brotherhood - Week 5Ed Bryant Scout Reservation
Wednesday 07-24-2019 5:00 PM CT to
Thursday 07-25-2019 10:00 PM CT
Past
---
OA Summer Camp Ordeal and Brotherhood - Week 6Ed Bryant Scout Reservation
Wednesday 07-31-2019 5:00 PM CT to
Thursday 08-01-2019 10:00 PM CT
Past