2023 Fall IOLS - BALOO Training Course
Event Details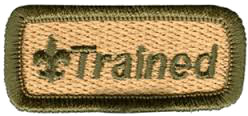 Introduction to Outdoor Leader Skills (IOLS) / BASIC ADULT LEADER OUTDOOR ORIENTATION (BALOO) Training Registration Information
The East Texas Area Council invites you to participate in Introduction to Outdoor Leader Skills (IOLS) or Basic Adult Leader Outdoor Orientation (BALOO) training for a fun-filled program of hands-on skills training in the outdoors. IOLS is designed to help you master basic camp skills required for Scouts BSA Tenderfoot to First Class Scout ranks. BALOO is the Cub Scout leader training required for any Cub Scout den or pack outdoor event, including pack camping overnighters and Webelos den overnighters. These courses will be held at the George W. Pirtle Scout Camp near Gary, Tx.
BALOO instructors will introduce concepts on how to make camping activities and outings fun. You'll discover how to keep your Cub Scouts safe and entertained. And you'll learn how to plan an event that's rooted firmly in Cub Scouting's principles. Remember, BALOO has an online component that must be completed prior to the field training.
IOLS instructors will help you develop your skills in how to set up camp, cook, work with wood tools, basic scout knots, first aid, planning campfire programs, map and compass skills, hiking and backpacking techniques, nature identification and Leave No Trace. IOLS and Scoutmaster Specific training are required to be considered "Position Trained" as a Scoutmaster or Assistant Scoutmaster. However, anyone involved with Scouting outdoors would benefit and is welcome to participate.
When & Where
BALOO TrainingGeorge W. Pirtle Scout Reservation
Saturday 10-14-2023 7:00 AM CT to
Sunday 10-15-2023 5:00 PM CT
Past
---
IOLS TrainingGeorge W. Pirtle Scout Reservation
Saturday 10-14-2023 7:00 AM CT to
Sunday 10-15-2023 5:00 PM CT
Past