Event Details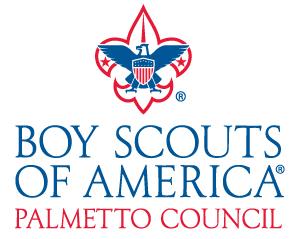 2020 Cub Scout Stay Camp
The Palmetto Council is proud to announce Stay Camp 2020! Stay Camp will replace all of our traditional June Cub Scout day camp sessions and give our Scouts four exciting stay camp session options.
Each week will have it's own unique theme. Cubs will receive a grade specific camp kit and virtual meetings to experience Stay Camp from the safety of their home.
Heroes - June 1-5
Build It - June 8-12
Into the Wild - June 15-19
Science - June 22-26
Our program is designed for each scout to achieve 1 rank specific elective adventure, complete a major service project and other scouting fun. All of our projects are designed to use our camp kit and common household items. Camp kits will be available for pick-up in the Pametto Council, shipping options available. A list of all necessary household items will be provided via email prior to camp. Each day we will gather as a den at 9:00 am for 30 minutes to go over the lesson of the day. We will also gather as an entire camp for a lunch and learn, from 12:30 - 1:00 pm, that correlates with our theme and achieving requirements for our adventures.
Each Thursday evening we will have a virtual campfire program from 7:00 - 7:30 pm and encourage Scouts to camp in.
**Please note** ALL times listed are EASTERN STANDARD TIMES.
All gatherings will be held via Zoom. We will create a communication channel for our dens (via GroupMe) so that you can post your work and communicate with your fellow Scouts. If dates and times do not work for your schedule, you can simply follow the instruction provided and watch the lunch and learn recordings.
Each week will cost $20 and will include a camp kit and patch. If you are not local to the Palmetto Council, or would prefer the items be shipped to your home, we will ship your items for an additional $8/camp kit. Siblings may also register to receive their own camp kit. Simply register under their respective grade level and use the pack number of their sibling.
Register you Cub for all four weeks and receive a FREE t-shirt. If you are not local to the Palmetto Council, or would prefer your non-household items be shipped, shipping will be an additional $32. T-shirts will also be available for purchase for an additional $10.
Weekly Pick-up locations for camp-kits will be in the following cities. Exact locations will be announced at a later time.
Gaffney
Richburg
Rock Hill
Spartanburg
When & Where
2020 Stay Camp Heroes Week - Rising 1st GradersPalmetto Service Center
Monday 06-01-2020 9:00 AM ET to
Friday 06-05-2020 1:00 PM ET
Past
---
2020 Stay Camp Heroes Week - Rising 2nd GradersPalmetto Service Center
Monday 06-01-2020 9:00 AM ET to
Friday 06-05-2020 1:00 PM ET
Past
---
2020 Stay Camp Heroes Week - Rising 3rd GradersPalmetto Service Center
Monday 06-01-2020 9:00 AM ET to
Friday 06-05-2020 1:00 PM ET
Past
---
2020 Stay Camp Heroes Week - Rising 5th GradersPalmetto Service Center
Monday 06-01-2020 9:00 AM ET to
Friday 06-05-2020 1:00 PM ET
Past
---
2020 Stay Camp Heros Week - Rising 4th GradersPalmetto Service Center
Monday 06-01-2020 9:00 AM ET to
Friday 06-05-2020 1:00 PM ET
Past
---
2020 Stay Camp Month Long Program - Rising 1st GradersPalmetto Service Center
Monday 06-01-2020 9:00 AM ET to
Friday 06-26-2020 1:00 PM ET
Past
---
2020 Stay Camp Month Long Program - Rising 2nd GradersPalmetto Service Center
Monday 06-01-2020 9:00 AM ET to
Friday 06-26-2020 1:00 PM ET
Past
---
2020 Stay Camp Month Long Program - Rising 3rd GradersPalmetto Service Center
Monday 06-01-2020 9:00 AM ET to
Friday 06-26-2020 1:00 PM ET
Past
---
2020 Stay Camp Month Long Program - Rising 4th GradersPalmetto Service Center
Monday 06-01-2020 9:00 AM ET to
Friday 06-26-2020 1:00 PM ET
Past
---
2020 Stay Camp Month Long Program - Rising 5th GradersPalmetto Service Center
Monday 06-01-2020 9:00 AM ET to
Friday 06-26-2020 1:00 PM ET
Past
---
2020 Stay Camp Build It Week - Rising 1st GradersPalmetto Service Center
Monday 06-08-2020 9:00 AM ET to
Friday 06-12-2020 1:00 PM ET
Past
---
2020 Stay Camp Build It Week - Rising 2nd GradersPalmetto Service Center
Monday 06-08-2020 9:00 AM ET to
Friday 06-12-2020 1:00 PM ET
Past
---
2020 Stay Camp Build It Week - Rising 3rd GradersPalmetto Service Center
Monday 06-08-2020 9:00 AM ET to
Friday 06-12-2020 1:00 PM ET
Past
---
2020 Stay Camp Build It Week - Rising 4th GradersPalmetto Service Center
Monday 06-08-2020 9:00 AM ET to
Friday 06-12-2020 1:00 PM ET
Past
---
2020 Stay Camp Build It Week - Rising 5th GradersPalmetto Service Center
Monday 06-08-2020 9:00 AM ET to
Friday 06-12-2020 1:00 PM ET
Past
---
2020 Stay Camp Into the Wild Week - Rising 1st GradersPalmetto Service Center
Monday 06-15-2020 9:00 AM ET to
Friday 06-19-2020 1:00 PM ET
Past
---
2020 Stay Camp Into the Wild Week - Rising 2nd GradersPalmetto Service Center
Monday 06-15-2020 9:00 AM ET to
Friday 06-19-2020 1:00 PM ET
Past
---
2020 Stay Camp Into the Wild Week - Rising 3rd GradersPalmetto Service Center
Monday 06-15-2020 9:00 AM ET to
Friday 06-19-2020 1:00 PM ET
Past
---
2020 Stay Camp Into the Wild Week - Rising 4th GradersPalmetto Service Center
Monday 06-15-2020 9:00 AM ET to
Friday 06-19-2020 1:00 PM ET
Past
---
2020 Stay Camp Into the Wild Week - Rising 5th GradersPalmetto Service Center
Monday 06-15-2020 9:00 AM ET to
Friday 06-19-2020 1:00 PM ET
Past
---
2020 Stay Camp Science Week - Rising 1st GradersPalmetto Service Center
Monday 06-22-2020 9:00 AM ET to
Friday 06-26-2020 1:00 PM ET
Past
---
2020 Stay Camp Science Week - Rising 2nd GradersPalmetto Service Center
Monday 06-22-2020 9:00 AM ET to
Friday 06-26-2020 1:00 PM ET
Past
---
2020 Stay Camp Science Week - Rising 3rd GradersPalmetto Service Center
Monday 06-22-2020 9:00 AM ET to
Friday 06-26-2020 1:00 PM ET
Past
---
2020 Stay Camp Science Week - Rising 4th GradersPalmetto Service Center
Monday 06-22-2020 9:00 AM ET to
Friday 06-26-2020 1:00 PM ET
Past
---
2020 Stay Camp Science Week - Rising 5th GradersPalmetto Service Center
Monday 06-22-2020 9:00 AM ET to
Friday 06-26-2020 1:00 PM ET
Past