Camp Amikaro Cub Scout Camp 2023
Event Details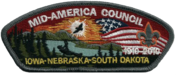 Come along explorers! It's time to go Into the Wild and explore the jungles of Camp Amikaro!
During this 3-day, 2-night adventure, our campers will spend their days around camp participating in exciting activities and learning from our trained staff. Each night we will conclude the fun with a good ol' fashioned campfire telling stories and singing songs of our expeditions.
Program areas at camp will include STEM, Climbing, Shooting Sports, Swimming, Boating & Fishing, Nature, Handicraft, Field Games, Webelos Outback*, and Arrow of Light Adventure*
*The Webelos Outback and Arrow of Light Adventure are limited to 25 participants each and require pre-registration.
Check out our leaders guide for more details on specific activities in each area, including the Webelos Outback and Arrow of Light Adventure programs, and the camp schedule.
Who can attend Camp Amikaro?
All Cub Explorers (Tigers through Webelos) are invited to join with their Den, Pack, or just their family. Does the weekend your pack is attending not work for your family? That's okay! You can attend any weekend session with or without the rest of your pack.
Youth must be at least a Tiger* (entering the 1st grade for the 2023-2024 school year) and currently registered with the BSA.
All leaders/ parents attending must have current Youth Protection training. Parents do not need to be currently registered with the BSA, but do need YPT. This can be taken at My.Scouting.org.
*Tigers must have an adult partner accompany them to Camp Amikaro. All other Scouts must follow the two-deep leadership requirements outlined in the Leader's Guide. Absolutely no Scout may attend Camp Amikaro without adult or parent leadership.
Cost:
$125 per Scout if paid in full by March 9, 2022
$140 per Scout if paid in full after March 9, 2022
$75 per Adult
Discounts available:
Free t-shirt for all youth who are registered and paid in full by May 22, 2023
$10 off per Scout who sells popcorn in 2022 and/or camp cards in 2023
$10 off per Scout and adult whose family contributes to the 2023 Investment in Character Campaign
$10 off per Adult who completes training for their primary BSA registered position
Session capacity and deadlines:
Session capacity limits are dependent on each weekend.

Session 1- 250 attendees
Session 2- 200 attendees
Session 3- 200 attendees
Session 4- 300 attendees
Session 5- 250 attendees
Session 6- 300 attendees

All sessions close 10 days prior to the start date of the session. No additional participants may be added after that time. Substitutions may be made 24 hours prior to the start of each session by emailing mac@scouting.org.
What to bring to camp:
Each attendee (youth and adult) must complete a BSA Annual Health & Medical Record (health form) parts A & B. Click here to download a copy.
Check out the suggested packing list here.
Unit Swim Classification Form (swim check form). Swim checks can be completed prior to camp if desired, or done during check in.
Mid-America Council Summer Camp Staff:
Our staff members are dedicated and trained youth and adults that have a passion for the program and the knowledge of our camp properties, camping skills, and program areas to help you have the best time at camp. Are you or someone you know interested in serving on camp staff at Camp Amikaro or Camp Cedars? We are currently hiring staff 14 years old and older for all program areas and positions. To find out more and apply please visit: https://mac-bsa.org/camping-outdoors/camp-staff/
When & Where
Session 1Camp Cedars
Friday 06-09-2023 2:00 PM CT to
Sunday 06-11-2023 2:00 PM CT
Past
---
Session 2Camp Cedars
Friday 06-16-2023 2:00 PM CT to
Sunday 06-18-2023 2:00 PM CT
Past
---
Session 3Camp Cedars
Friday 06-23-2023 2:00 PM CT to
Sunday 06-25-2023 2:00 PM CT
Past
---
Session 4Camp Cedars
Friday 07-07-2023 2:00 PM CT to
Sunday 07-09-2023 2:00 PM CT
Past
---
Session 5Camp Cedars
Friday 07-14-2023 2:00 PM CT to
Sunday 07-16-2023 2:00 PM CT
Past
---
Session 6Camp Cedars
Friday 07-21-2023 2:00 PM CT to
Sunday 07-23-2023 2:00 PM CT
Past