2020 Youth Protection Training- In Person Sept
Event Details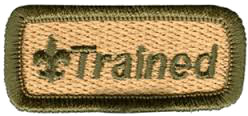 Youth Protection Training
Wednesday, September 30th 6:30-8:30PM
Location: Beaumont Scout Reservation @ Cub World Paviliion
Bring your own: Chair/water/notebook/pen

True youth protection can be achieved only through the focused commitment of everyone in Scouting. It is the mission of Youth Protection volunteers and professionals to work within the Boy Scouts of America to maintain a culture of Youth Protection awareness and safety.

Youth Protection training is required for all BSA registered volunteers. It is a joining requirement, and continued membership requires that it be retaken every two years.
This is an in-person, offline session, conducted outdoors under an open air pavilion. It will comply with the Greater St. Louis Area Council's policies for social distancing, masking, and the number of participants.
SEATING IS LIMITED -- please do not register for this session if you are able to complete the training at my.scouting.org or attend one of our Zoom sessions. Call the council training department at 314-361-0600 if you have questions.
Online sessions:
24/7 at my.scouting.org
September 17 by Zoom
October 12 by Zoom
November 07 by Zoom
December 09 by Zoom
Youth Protection training membership requirements are satisfied when a participant earns a passing grade on the knowledge assessment which concludes the session.

When registering, remember to provide your BSA member ID or indicate that you are a new member. Training is logged for registered members. Every participant who successfully completes the course will receive confirmation by email.
When & Where
2020 Youth Protection TrainingBeaumont Scout Reservation
Wednesday 09-30-2020
6:30 PM CT to 8:30 PM CT
Past