2021 Space Exploration Merit Badge Virtual
Event Details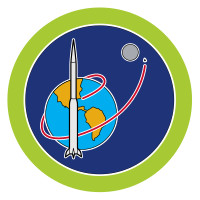 Space Exploration Merit Badge
This class will be conducted on Zoom.
Date: April 18, 2021
Time: 12:00pm - 05:00pm
Instructor: Sophia Bright
Cost; $5.00
Prerequisites:
Requirement 2
Requirement 3: If you have already launched a rocket already, be prepared to talk about the launch. If you have not then please do the following: Make a model of a NASA rocket (e.g. Saturn V, Space Launch System, Atlas, Delta, etc.). The model can be made up of items you can find around your household - it does not need to be an official store-bought model. Explain the functions of the parts. Give the history of the rocket.
Requirement 5: We will do 5A as part of the lesson so please complete EITHER 5B or 5C
The Zoom link will be sent out prior to the class.
Scouts should plan to have their videos on for the duration of the session so that Counselors can ensure their participation and engagement. Counselors have the discretion to determine if a Scout completed the requirements based on their engagement during the session
When & Where
Space Exploration classOnline Merit Badge Class
Sunday 04-18-2021 12:00 PM CT to 5:00 PM CT
Past