2023 Fire Safety Merit Badge
Event Details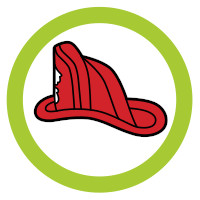 Fire Safety Merit Badge
Date: October 28, 2023
Time: 9:00 am to 11:00 am
Location: Black Jack Fire Department 5675 North Highway 67, Florissant, MO 63034
Instructor: Roger Ellison
Cost is $10.00
Prerequisites:
1. Do the following:
1a. Demonstrate the technique of stop, drop, cover, roll, cover your face, and cool. Explain how burn injuries can be prevented.
1b. List the most frequent causes of burn injuries
6. Conduct a home safety survey with the help of an adult. Then do the following:
6a. Draw a home fire-escape plan, create a home fire-drill schedule, and conduct a home fire drill. MUST BRING TO THE SEMINAR
6b. Test a smoke alarm and demonstrate regular maintenance of a smoke alarm.
7. Do the following:
7a. Demonstrate lighting a match safely.
7b. Demonstrate the safe way to start a charcoal fire.
7c. Demonstrate how to safely light a candle. Discuss with your counselor how to safely use candles.
9b. Demonstrate the safety factors, such as proper ventilation, for auxiliary heating devices and the proper way to fuel those devices.
Do the following:
10b. Demonstrate setting up and putting out a cooking fire.
10c. Demonstrate using a camp stove and lantern.
10d. Explain how to set up a campsite safe from fire.
LETTER FROM PARENT OR LEADER AS TO THE COMPLETION OF THESE WILL BE SUFFICIENT
When & Where
Fire SafetyBlack Jack Fire House
Saturday 10-28-2023
9:00 AM CT to 11:00 AM CT
Past