2021 Communications Merit Badge- In Person
Event Details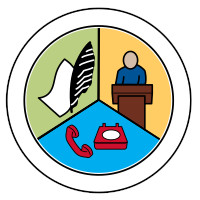 Communications Merit Badge
December 12, 2021
1:00pm to 4:00pm
Beaumont Scout Reservation- Theater Room at Emerson Center
Instructor: Carla Faulkner
We will cover the following requirements in the class:
Requirement 1(d): List as many ways as you can think of to communicate with others. For each type of communication, discuss an instance when that method might not be appropriate or effective.
Requirement 2(b): Choose a concept, product, or service in which you have great confidence. Build a sales plan based on its good points. Try to persuade the counselor to agree with, use, or buy the concept, product, or service.
Requirement 6: Develop a plan to teach a skill or inform someone about something. Prepare teaching aids for your plan. Carry out your plan. (Please have a shoe with laces available to use as a teaching aid for your plan)
Requirement 9: Find out about three career opportunities in communication. Pick one and find out the education, training, and experience required for this profession.
The scouts need to complete the following prior to the class:
Requirement 3: Write a five minute speech and be prepared to give it during the class. (This will be done at the end of the meeting after we cover the other items)
Requirement 4: Interview someone you know fairly well, like, or respect. Listen actively to learn as much as you can about the person. Prepare and deliver an introduction of the person as though this person was going to be a guest speaker during our meeting. Discuss how you would invite this person to be a guest speaker at a meeting.
The following requirements can be done before or after our class:
Requirement 5: Attend a public meeting. Listen and take notes of each point of view. Prepare an objective report that includes all of the points of view that were expressed and be ready to discuss during the Zoom meeting (many municipalities and school boards have recorded their meetings. If you need help finding one to watch, please let me know)
Requirement 7: Do ONE of the following ( leave it up to you to choose which one you are most comfortable with doing. You will need to provide a copy of your work to me):
(a) Write to the editor of a magazine or your local newspaper to express your opinion or share information on any subject you choose. Send your message by fax, email, or regular mail.
(b) Create a web page or blog of special interest to you (for instance, your troop or crew, a hobby, or a sport). Include at least three articles or entries and one photograph or illustration, and one link to some other web page or blog that would be helpful to someone who visits the web page or blog you have created. It is not necessary to post your web page or blog to the Internet, but if you decide to do so, you must first share it with your parents and counselor and get their permission.
(c) Use desktop publishing to produce a newsletter, brochure, flier, or other printed material for your troop or crew, class at school, or other group. Include at least one article and one photograph or illustration.
Requirement 8: Plan a troop or crew court of honor, campfire program, or an interfaith worship service. Have the Patrol Leader's Council approve it, then write the script and prepare the program. Serve as master of ceremonies.
When & Where
Class
Beaumont Scout Reservation
Sunday 12-12-2021 1:00 AM CT to 4:00 PM CT