2022 BSA Certified Angling Instructor Course
Event Details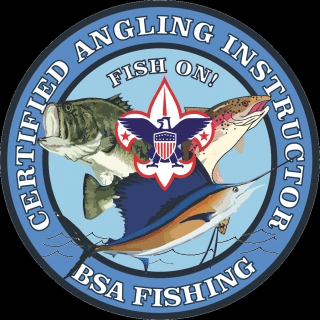 BSA Certified Angling Instructor Training Opportunity– PAS Code: CS61
Are you searching for programs that will lead to member recruitment, reactivation, and retention? Then, we think we have just the B.S.A. Supplemental Training course for you! Like many things in Scouting, the B.S.A. Certified Angling Instructor Training Course is designed to be fun with a purpose!
Participants will;
Understand available resources for unit angler education program development to inspire member recruitment and retention.
Gain education and insight through active participation in dozens of Angling Education learning activities.
What to expect;
We promise that our staffers will provide you with a program filled with high energy and enthusiasm!
Activities include;
Age and Skill Level Based Programs
Focused on the aims of Cub Scout, Scout B.S.A., Sea Scout / Venturing B.S.A. Programs
Focusing on methods that include Outdoors, Angling, and Conservation.
We are confident that our program will provide you;
An experience that will be worth your investment of time away from work and family
a high return on your investment
inspiration and rejuvenate your Spirit
opportunity to experience fly fishing & fly tying
opportunity to network with fellow Scouters/Angling Educators
provide you the confidence to provide leadership to angler education programs that will lead to member recruitment, reactivation, and retention!
Lead Instructor:
Michael R. Brand- B.S.A. Certified Angling Instructor.
B.S.A. Silver Antelope Award Recipient-2021
Eagle Scout-1976
Aquatic Resources Education Association
Steve Campbell Outstanding Aquatic Educator of the Year 2016
United States Angling Confederation
Board Member – Treasurer
Course Dates: (you will sign up once to be registered for all)
Five (5) Virtual Sessions:

Wednesday Evenings 7:00PM until 8:30PM

May 18, 2022
May 25, 2022
Jun 01, 2022
Jun 08, 2022
Jun 15, 2022

One (1) Lakeside Session:

Saturday 8:00am until 3:00PM
-Forest Park, St. Louis, Missouri
Who can attend:
No prior fishing experience is required
if you possess angling knowledge and skills, we would like to leverage those talents and provide an even better program with your participation in this course
Personal fishing equipment is not required to take the course.
you must be 16 or older to participate
open to both In-Council and Out-of-Council attendees
EVENT REGISTRATION:
OPENS April 15, 2022
Space is limited, so register on 4/15/2022!
Cost: $10.00
PRO TIP: Bring a Buddy and double your fun!
Questions? Please contact Michael Brand.
Email: Michaelbrand314@email.com
Cell: 314.477.8120
When & Where
Zoom Session 1Your Couch
Friday 05-20-2022 7:00 PM CT to 8:30 PM CT
Past
---
Zoom Session 2Your Couch
Wednesday 05-25-2022 7:00 PM CT to 8:30 PM CT
Past
---
Zoom Session 3Your Couch
Wednesday 06-01-2022 7:00 PM CT to 8:30 PM CT
Past
---
Zoom Session 4Your Couch
Wednesday 06-08-2022 7:00 PM CT to 8:30 PM CT
Past
---
Zoom Session 5Your Couch
Wednesday 06-15-2022 7:00 PM CT to 8:30 PM CT
Past
---
Lakeside SessionForest Park
Saturday 06-18-2022 8:00 AM CT to 3:00 PM CT
Past