2021 National Scout Jamboree
Event Details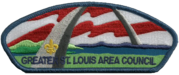 Welcome to the GSLAC 2021 National Scout Jamboree page! The National Jamboree is Scouting's flagship event and is one-of-a-kind. Join 40,000 Scouts, leaders, and staff at the Summit Bechtel Reserve in West Virginia to experience everything from one of the longest zip lines in North America, a world-class skate park, all-terrain vehicles, treetop canopy tours, rock climbing, patch trading, stadium shows, and much more! Held every four years, the Jamboree is an amazing opportunity for everyone to experience the best of Scouting, all in one place. Your Scout may have been to the Summit Bechtel Reserve, but they have not experienced the awesomeness of the Jamboree.
We want your Scout or Venturer to experience this once in a lifetime event. The first step is to fill out the Jamboree application here https://jamboree.scouting.org/.
Cost
The exact cost for this event is still being worked on but the estimate counting the fee for the event plus transportation and other costs will be between $1,800-$2,000 per participant. The all-in-one price will include the Jamboree fee, transportation, uniform, touring, class-b shirts, patches and any other equipment needs.
Application
***Steps to Apply for the National Scout Jamboree***
The application link will take you to the national site. When you are finished submitting your application it will automatically be sent to the Greater St. Louis Area Council. The application system is not quite intuitive, so follow these easy steps:
Step 1 - If you don't have a login for my.scouting you will be prompted to create one. It's pretty easy. You will need to create a new login for your Scout or Venturer.
Step 2 - Complete the Application
Step 3 - When you receive a confirmation email there will be a link to approve the paperwork. Just click on the link inside the email and check the boxes and hit submit.
Step 4 - When the Council accepts your application you will receive a link to pay the initial deposit. (The Council checks to make sure Scouts are registered with our Council).
It is important to submit your application so the Council can start to track your progress and start putting together our troops and crews.
Have questions?
As you know we have a very large Council. We have six regional vice chairs in each part of the council who will be promoting the Jamboree at Roundtables and other Scouting events in their area. This will allow you to have a local contact who knows your unit, your Scouts and your area. Our regional contacts are included below.
Districts and Contact Information
Region 1 - Districts - Grand Towers, Gravois Trail, Illini, New Horizons, North Star, Pathfinder, Thunderbird. Regional Chair - Paul Ke, paulke1039@yahoo.com, 314-691-4674.
Region 2 - Districts – Boone Trails, Osage, Ozark Trailblazers. Regional Chair - David Cheese, dcheeseii@yahoo.com, 573-418-9333.
Region 3 - Districts – Big Muddy, Cherokee, Egyptian, Shawnee, Sioux. Scot Keene, ScotMKeene@gmail.com, 618-319-0634.
Region 4 - Districts – Black Gold, Kaskaskia, St. Clair, Rob Smith, EagleScoutRob@gmail.com, 618-530-8298.
Region 5 - Districts – Railsplitter, Redhawk, Two Rivers, Richard Nolte, r.nolte@comcast.net, 217-412-3929.
Region 6 - Districts – Cahokia Mounds, Piasa Bird, Eric Voss, evoss@siue.edu, 618-288-3842.
Videos
Take a look at the cool videos highlighting the awesome spots at the Jamboree site.
The Rocks
High Gear
The Ropes
The Park
The Trax
When & Where
Adult Leader RegistrationSummit Bechtel Reserve
Wednesday 07-21-2021 12:00 AM CT to
Friday 07-30-2021 11:59 PM CT