2021 National Jamboree Interest Page
Event Details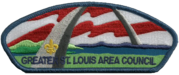 Registering through this site is only for expressing interest in attending the 2021 National Jamboree. It does not complete your registration for the event, nor does it guarantee you a spot with the contingent. Once registration information is available, it will be emailed to those that submit the information requested on this Interest page.
Event dates are still being finalized, however will begin in the second half of July 2021.
Scouting's flagship event is one-of-a-kind. Join 40,000 Scouts, leaders, and staff at the Summit Bechtel Reserve in West Virginia to experience everything from one of the longest zip lines in North America, a world-class skate park, all-terrain vehicles, treetop canopy tours, rock climbing, patch trading, stadium shows, and much more! Held every four years, the Jamboree is an amazing opportunity for everyone to experience the best of Scouting, all in one place.
When & Where
Summit Bechtel Reserve
Wednesday 07-21-2021 12:00 AM CT to
Friday 07-30-2021 11:59 PM CT