2019 Moviemaking Merit Badge-Microsoft Store
Event Details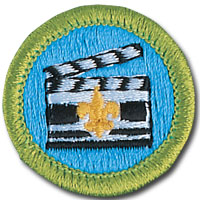 All merit badge workshops are 2 hours in length on the date indicated. Upon fulfilling the requirements, the Counselor will sign the BSA Blue Card/merit badge card. During their workshop, Scouts will have a period of free time so they can enjoy a hands-on experience with the newest technology found in the store. Scouts must bring a merit badge card/Blue Card signed by their Troop leader.
Prerequisites: none
All youth must be accompanied by an adult for the duration of the workshop (we need at least 1 adult to every 2 Scouts to help supervise). Scouts should come in uniform and bring their workshop receipt.
Microsoft Store - St. Louis Galleria
2417 Saint Louis Galleria
Saint Louis, MO 63117

Park in the garage on the second floor and take the skywalk over to Galleria. Microsoft store is on the North side of the mall.
Please make sure to fill out and bring a "Participant Release Form" to your workshop.
Please complete Requirement 4 (3 careers in moviemaking) and bring proof with you to the workshop.
When & Where
Moviemaking Merit BadgeMicrosoft Store - St. Louis Galleria
Sunday 11-24-2019 11:00 AM CT to 1:30 PM CT
---
Moviemaking Merit BadgeMicrosoft Store - St. Louis Galleria
Sunday 12-08-2019 11:00 AM CT to 1:30 PM CT
---
Morris Private Moviemaking WorkshopMicrosoft Store - St. Louis Galleria
Monday 12-09-2019 5:00 PM CT to 7:00 PM CT
---
Moviemaking Merit BadgeMicrosoft Store
Sunday 02-03-2019 11:00 AM CT to 1:00 PM CT
Past
---
Moviemaking Merit BadgeMicrosoft Store
Sunday 03-17-2019 2:00 PM CT to 4:00 PM CT
Past
---
Moviemaking Merit BadgeMicrosoft Store
Sunday 03-31-2019 11:00 AM CT to 1:00 PM CT
Past
---
Moviemaking Merit BadgeMicrosoft Store
Sunday 04-28-2019 12:00 PM CT to 2:00 PM CT
Past
---
Moviemaking Merit BadgeMicrosoft Store
Sunday 05-19-2019 11:00 AM CT to 1:00 PM CT
Past
---
Moviemaking Merit BadgeMicrosoft Store
Sunday 06-02-2019 2:00 PM CT to 4:00 PM CT
Past
---
Moviemaking Merit BadgeMicrosoft Store
Sunday 06-16-2019 2:00 PM CT to 4:00 PM CT
Past
---
Moviemaking Merit BadgeMicrosoft Store
Sunday 06-30-2019 11:00 AM CT to 1:00 PM CT
Past
---
Microsoft Store - St. Louis Galleria
Sunday 07-28-2019 11:00 AM CT to 1:30 PM CT
Past
---
Microsoft Store - St. Louis Galleria
Sunday 08-18-2019 11:00 AM CT to 1:30 PM CT
Past
---
Microsoft Store - St. Louis Galleria
Sunday 09-08-2019 11:00 AM CT to 1:30 PM CT
Past
---
Microsoft Store - St. Louis Galleria
Sunday 09-29-2019 11:00 AM CT to 1:30 PM CT
Past
---
Moviemaking Merit BadgeMicrosoft Store - St. Louis Galleria
Sunday 10-27-2019 11:00 AM CT to 1:30 PM CT
Past