2023 Cub Scout Overnight Camp - Camp May
Event Details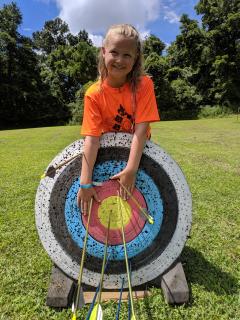 Cub Scout Overnight Camp
2 nights/ 3 day overnight camping experience for all ages of Cub Scouts (entering 1st grade through 5th grade)
Attend as a pack or as a family
Camp fees includes all meals, tenting (at Camp May), program supplies, and camp patch!
The Cub Scout Overnight Camp Experience
DAY 1: Check in at 1-3PM - settle in and set up camp, receive a camp tour and orientation, complete swim tests, and get acquainted with camp life - dinner will be served in the dining hall then followed by the evening's entertainment: The Campfire. At Campfire learn songs, watch skits and laugh along with the camp staff.
DAY 2: breakfast and the fun begins! Campers will separate based on age and go do activities. Activities include swimming, shooting sports, outdoor skills (like learning to build a fire!), STEM, and nature exploration. There will be a brief moment for lunch, a pause in the action for a rest, then activities start up again before dinner! After dinner, evening programs such as the climbing tower will begin!
DAY 3: breakfast and continued fun! Before packing up, there will be a few hours of activities. Check out will be by 12PM
Camp May Specific Highlighted Experiences: Explore Beaumont's very own cave, Mud Cave, climb the climbing tower at night, and swim in the Camp May pool! Watch them learn and grow while experiencing new adventures.
Advancement: This camp is for all ages/ranks, incoming first graders and up. During the morning and afternoon, Scouts will do age-specific activities and advancements so they can start their Scouting year off with a few awards completed by the time they leave camp!
More details available in our 2023 Camp May Camp Guide located in the attachements.
2023 Camp Dates & Locations
Camp May at the Beaumont Scout Reservation - High Ridge, MO
Session 1: June 23-25**
Session 2: June 25-27**
Session 3: June 29-July 1
Session 4: July 11-13
** Indicates that there is an option for provisional camper available
AGES: Cub Scout Overnight Camp is for Tigers, Wolves, Bears, Webelos, and Arrow of Light Scouts (youth going into 1st-5th grade this fall). At camp, Scouts will be put into groups based on the rank they are entering in the fall. For example, if your den is working on the Wolf rank now, you will register those Scouts as Bears, the rank they will be in the fall of 2023.
Dietary Restrictions? Click here for our 2023 Summer camp Special Diet request form.
To receive Early Bird Pricing you must be paid in full by April 12th
Late fee of $10 will be added if not paid in full by June 1st
Sign up your Den or Pack as a group on one registration for your camp session and get discounts! Adult fees will be free at this ratio:
One free adult with 3 Scout registrations
Two free adults with 11 Scout registrations
Three free adults with 21 Scout registrations, etc.
When & Where
Session 1Camp May
Friday 06-23-2023 1:00 PM CT to
Sunday 06-25-2023 12:00 PM CT
---
Session 2Camp May
Sunday 06-25-2023 1:00 PM CT to
Tuesday 06-27-2023 12:00 PM CT
---
Session 3Camp May
Thursday 06-29-2023 1:00 PM CT to
Saturday 07-01-2023 12:00 PM CT
---
Session 4Camp May
Tuesday 07-11-2023 1:00 PM CT to
Thursday 07-13-2023 12:00 PM CT