2023 American Red Cross Lifeguard Training
Event Details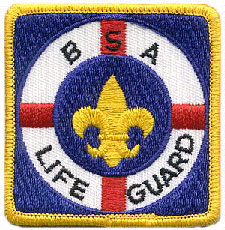 Boy Scouts of America and American Red Cross Lifeguard Training

Do you need training for a Lifeguarding job for the summer?
Dates / Times:
April 3 Registration deadline!
April 8 1-3pm Chuck Fruit Aquatic Center 6168 Center Grove Rd, Edwardsville, IL 62025 -Prerequisite swim test and orientation
April 24, 25, 26, 27, 28 6:30-10pm;
Apr 29-30 9am-5pm Chuck Fruit Aquatic Center
Note: you must attend ALL sessions
This course uses the Red Cross blended learning option that requires approximately 7 ½ hours of online study before April 24. This allows us to reduce the amount of time needed for knowledge development classes
Certifications:
You will earn the following certifications by successfully completing this course:
-American Red Cross Lifeguarding/First Aid/CPR/AED
-American Red Cross Waterfront Skills
-Boy Scouts of America Lifeguard
What you need:
Cost: $150
• You must be at least 15 years old.
• You must supply a current BSA Annual Health and Medical Record form signed by a physician (Parts B&C).
• You must demonstrate the following at the prerequisite swim test: swim continuously for 550 yards (swim goggles are allowed), including at least 100 yards of each of the following strokes in good form using rhythmic breathing: front crawl, breaststroke, sidestroke and elementary backstroke. Immediately following the swim you must tread water for two minutes using no hands (your hands must be under your armpits).
• Complete a timed event within 1 minute, 40 seconds: starting in the water, swim 20 yards, retrieve a 10-lb object from 7-10' deep, swim back to the start on your back with both hands on the object, exit the water.
• Swim 5 yards on the surface, submerge and retrieve three dive rings placed 5 yards apart in 4-7' of water, resurface and swim 5 yards to the side of the pool. (Note: those who are not able to pass the prerequisite skills will be issued a partial refund of fees)
• You will need to furnish a swim mask, snorkel and fins (all other equipment is provided).
• You will need to bring a bag lunch for each day of the weekend session.
• You will need to complete the Red Cross blended learning sessions before April 24 and bring proof of completion to the first class.
Register early since course space is limited
Course Details
April 3: Registration deadline
April 8 : 1-3pm Prerequisite swim test and orientation Chuck Fruit Aquatic Center
April 24, 25, 26, 27, 28 6:30-10pm; April 29-30 9am-5pm Chuck Fruit Aquatic Center
Note: You must attend ALL sessions to complete the course and get certification
When & Where
American Red Cross Lifeguard TrainingChuck Fruit Aquatic Center
Saturday 04-08-2023
1:00 PM CT to 3:00 PM CT
Past
---
American Red Cross Lifeguard TrainingChuck Fruit Aquatic Center
Monday 04-24-2023 6:30 PM CT to
Friday 04-28-2023 10:00 PM CT
Past
---
American Red Cross Lifeguard TrainingChuck Fruit Aquatic Center
Saturday 04-29-2023 9:00 AM CT to
Sunday 04-30-2023 5:00 PM CT
Past