2022 Nisha Kittan Spring Fellowship
Event Details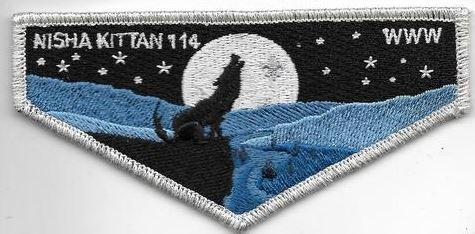 EVERYONE SHOULD BE PREPARED TO WEAR A MASK ALL WEEKEND. (BRING YOUR OWN) WE WILL BE FOLLOWING THE RECOMMENDED CDC GUIDELINES REGARDING COVID-19.
Candidates, please arrive no later than 7:30 pm at Camp Warren Levis. We will have a Parent meeting at 7:30 PM for all ordeal members, so plan to stick around after dropping off your Scout. All attendees are expected to be in camp until 11:00 am on Sunday, although dismissal may be slightly earlier on Sunday after Elections.
All attendees need to bring Parts A and B of the BSA health form, medication, Scout Uniform, Sleeping bag or blanket, ground cloth such as a tarp, sleeping pad, raincoat or poncho, water bottle, flashlight, work clothes, work gloves, sunscreen, insect repellant, swim trunks and towel, and personal care items (deodorant, soap, hand towel and drying towel).
Candidates need to bring a tent to stay in for Saturday night or plan to share with fellow Scouts. Because of guidelines pertaining to COVID-19, only 1 person per tent, unless they are from the same household.
Selected Vigil Honorees will complete their required tasks and earn the highest distinction in the Order of the Arrow with guidance from their mentors during a Friday evening event. Vigil Honorees can stay the whole Fellowship weekend, or arrive at camp no later than 8:00pm on Friday.
The presence of all Vigil members is requested to help celebrate on Saturday morning with a congratulatory breakfast in the lodge. Saturday morning attendees should plan to be at camp no later than 6:30 AM. We will also have the option of completing a service project with ALL MEMBERS at camp following the morning meal.
Full details to be determined as we near the event.
Fees:
$40 Ordeal Candidate (for those completing their initial ordeal after their election)
$30 Brotherhood Candidate (6 months of service since initial ordeal was completed)
$30 Vigil Honor (Only those who have been selected for Vigil Honors)
$20 Arrowman (for existing Arrowmen)
$10 Vigil Honor Breakfast-Only (This is for anyone who has received Vigil Honors)
$10 Service Team (Ceremonies, kitchen, registration)
Elangomats are FREE (Please be on-site for the 6:30 PM Elangomat meeting)
We will have an Order of the Arrow trading post set up for purchases on Sunday morning (patches, t-shirts, and other items), so please plan accordingly.
If your Scout requires a specific menu – Gluten Free, etc. - please let us know prior to arrival so that we can prepare.
When & Where
Camp Warren Levis
Friday 04-08-2022 6:00 PM CT to
Sunday 04-10-2022 11:00 AM CT
Past