2021 Beaumont Spring Cub Launch
Event Details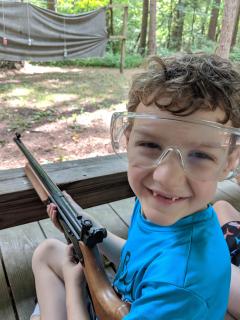 Cub Launch Saturdays Beaumont
Cub Launch is a one day event where a Cub Scout can experience all things Cub Scouting including shooting sports, STEM experiments, community guest presenters, and much more! Cub Scouts will also have the opportunity to earn their Bobcat requirement! The first advancement a Cub Scout can get. This event is perfect for brand new Cub Scouts, as well as, seasoned Cub Scouts who want to spend a fun Saturday Scouting!
Safety Procedures:
Each Saturday session will adhere to 50-person maximum restrictions and 6 feet of social distancing

Masks are required for each person in attendance!

All participants and event staff will undergo a health screening and have their temperature checked upon arrival

All shared materials will be disinfected in between use
Due to the maximum attendee restrictions we ask that only one parent attends with a child or one parent with multiple children to ensure as many kids can get a great experience. In contrast to previous years we need everyone who plans on attending to register, including all adults and all children, scouts or not.
WHEN: May15th
Sessions at 9AM, 11AM, and 1PM (expect your experience to be about 2 hours long)
WHERE: Beaumont Scout Reservation, Cub World Pavilion for Check-In, 6480 Beaumont Reservation Dr, High Ridge, MO 63049
Want to extend your visit and do other cool activities? Other activities are available at Beaumont through our Online Reservation Portal and are reservable at an additional cost!
Activities: overnight camping as a family, the climbing tower and/or horseback riding
Stay the night or just participate in an additional activity!
Reserve those activities here: https://campreservation.com/312/Home
When & Where
Saturday May 15th 9:00 AM - 11:00 AMBeaumont Scout Reservation
Saturday 05-15-2021 9:00 AM CT to 11:00 AM CT
---
Saturday May 15th 11:00 AM - 1:00 PMBeaumont Scout Reservation
Saturday 05-15-2021 11:00 AM CT to 1:00 PM CT
---
Saturday May 15th 1:00 PM - 3:00 PMBeaumont Scout Reservation
Saturday 05-15-2021 1:00 PM CT to 3:00 PM CT