2020 Webelos Camp-Pine Ridge
Event Details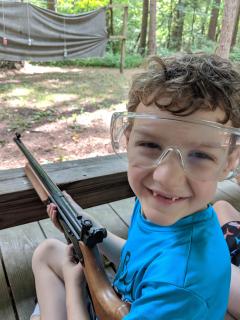 Webelos Camp is an overnight camp for Webelos and Arrow of Light Scouts (boys and girls going into 4th and 5th grade in the fall of 2020). Scouts will work on Rank Advancements and awards throughout the mini week, while having fun participating in adventure and learning throughout camp
This kind of outdoor fun is why youth sign up for Scouts! And this is a great opportunity to make memories that will last a lifetime with your children as you watch them learn and grow while experiencing new adventures. Scouts will enjoy hands-on activities in a safe, educational environment, while starting your scouting year by earning advancements and awards at camp. Program areas include swimming, shooting sports, nature, outdoor skills, and boating.
All campers must bring their own tents to Pine Ridge, and all meals are cooked on the campsite, so please review the camp manual (in the attachments section) to see what gear you should bring to camp. It is recommended that an adult in your group has completed LOE (leader Outdoor Experience).
Sign up your Den or Pack as a group on one registration for your camp session and get discounts! Adult fees will be free at this ratio:
One free adult with 3 Scout registrations
Two free adults with 11 Scout registrations
Three free adults with 21 Scout registrations, etc.
When & Where
Session 1Pine Ridge Scout Reservation
Thursday 07-16-2020 8:00 AM CT to
Saturday 07-18-2020 6:00 PM CT
Past