2020 Webelos/Arrow of Light-Camp May
Event Details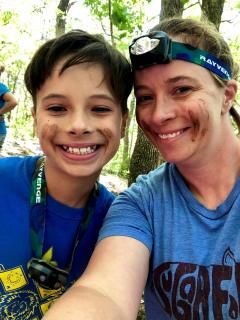 Webelos/Arrow of Light Camp is an overnight camp for Webelos and Arrow of Light Scouts (boys and girls going into 4th and 5th grade in fall, 2020). This camp is six days/five nights, and all meals and tents are provided (but anyone is welcome to bring his/her own tent). Program areas include swimming, shooting sports, nature, outdoor skills, Mud Cave, climbing, and STEM.
This kind of outdoor fun is why youth sign up for Scouts! And it is a great opportunity to make memories that will last a lifetime with your children as you watch them learn and grow while experiencing new adventures. Scouts will enjoy hands-on activities in a safe, educational environment, while starting the scouting year by earning advancements and awards at camp.
Please note, all youth and adults at camp for more than 72 hours MUST have completed BSA health Form parts A, B, and C, signed by a physician.
Please note, adults accompanying a Scouting unit who are present at the activity for 72 total hours or more must be registered as a leader.
Sign up your Den or Pack as a group for your camp session and get discounts! Adult fees will be free at this ratio:
One free adult with 3 Scout registrations
Two free adults with 11 Scout registrations
Three free adults with 21 Scout registrations, etc.
If you need to request a special diet please do so here:
http://www.kandledining.com/specialdietrequest_gslac
When & Where
Session 1Camp May
Sunday 06-07-2020 1:30 PM CT to
Friday 06-12-2020 1:30 PM CT
Past
---
Session 2Camp May
Sunday 06-21-2020 1:30 PM CT to
Friday 06-26-2020 1:30 PM CT
Past
---
Session 3Camp May
Sunday 07-05-2020 1:30 PM CT to
Friday 07-10-2020 1:30 PM CT
Past