2017 Fall Challenge Course Instructor Qualification Training
Event Details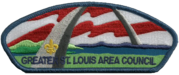 This Initial Challenge Course Instructor training course teaches Scouters the basic skills of safety, equipment, games and fun that all three of our challenge courses offer. Once you take the Initial Challenge Course Instructor course at S bar F or Camp Joy, you can take a One-Day Orientation for the other two courses.
A Wednesday night and weekend training course is required to be eligible to become a qualified leader for our challenge courses. GSLAC has a course at S bar F Scout Ranch, Beaumont Scout Reservation, and Camp Joy; different from each other but all offer the challenges that Scouts and Venturers enjoy. All programs and sites use the same policies and procedures.
On Wednesday night, everyone will receive a piece of 1" tubular webbing Swami Belt, knot training, detailed equipment list, training about equipment and packing list for the weekend training and Saturday night camping at Camp Joy.
When & Where
Challenge Course Instructor TrainingBeaumont Scout Reservation
Wednesday 09-20-2017
7:00 PM CT to 9:30 PM CT
Past
---
Challenge Course Instructor TrainingScout Office in Belleville
Wednesday 09-20-2017
7:00 PM CT to 9:30 PM CT
Past
---
Challenge Course Instructor TrainingCamp Joy - "O" Pavilion
Saturday 09-30-2017 7:30 AM CT to
Sunday 10-01-2017 4:00 PM CT
Past