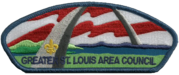 ****WALK INS ARE WELCOME, PLEASE BRING CASH OR CHECK FOR PAYMENT****
Cub Launch is a one day event where a Cub Scout will get to experience all things Cub Scouting including Fishing, Shooting Sports, STEM experiments, community guest presenters, and much more! New this year... every Cub Scout will have the opportunity to earn their Bobcat requirement! The first advancement a Cub Scout can get. This event is perfect for brand new Cub Scouts as well as Cub Scouts who want to spend a fun Saturday Scouting!
WHO: Cub Scouts and Siblings $10 (the whole family is invited!)
WHAT: Activities include, fishing, BB guns, archery, slingshots, STEM experiments, hiking, earn the Bobcat Badge, horseback riding, campfire cooking, and much more! (each location's activities are subject to change)
All locations will be set up open-house style meaning, come and go as you please. Stay for a couple hours or the entire time, whatever is best for you.
WHEN and WHERE:
Camp Vandeventer (Kaskaskia): Saturday September 30 2017 from 9AM to 3PM
Beaumont Scout Reservation: Saturday October 7th 2017 from 9AM to 3PM
Wentzville United Methodist Church (Boone Trails): Saturday October 7th 2017 from 9AM to 1PM
Cape Girardeau (North Cape County Park): Saturday October 7th 2017 from 9AM to 1PM
Mineral Area College (OZT): Saturday October 7th 2017 from 9AM to 12PM
Camp Warren Levis (Piasa Bird & Cahokia Mounds): Saturday October 7th 2017 from 9AM to 12PM
Camp Joy (Black Gold): Saturday October 7th 2017 from 9AM to 1PM
O'Fallon IL Sportsman Club (St. Clair): Saturday October 7th 2017 from
Sikeston Jaycees Golf Course (Cherokee): Saturday October 21st 2017 from
Suzie Redington
Activities Director
suzie.redington@scouting.org
314.256.3058

Council Service Center -- MacArthur (W. Pine)
4568 W Pine Blvd
St. Louis, Missouri 63108
Phone: 314-361-0600

Multiple sessions to choose fromCamp Vandeventer
Saturday 09-30-2017 9:00 AM to 3:00 PM
Past
Camp Vandeventer

Map this session
Coords: 38.3294504, -90.2069879
3463 Trout Camp Rd
Waterloo, Illinois 62298
Beaumont Scout Reservation
Saturday 10-07-2017 9:00 AM to 3:00 PM
Past
Beaumont Scout Reservation

Map this session
Coords: 38.5037155, -90.554161
6480 Beaumont Scout Reservation
High Ridge, Missouri 63049
Phone: 636-938-5444
Boone Trails (Wentzville UMC)
Saturday 10-07-2017 9:00 AM to 1:00 PM
Past
Wentzville United Methodist Church

Map this session
Coords: 38.8185852, -90.8514355
725 Wall St
Wentzville, Missouri 63385
Camp Joy
Saturday 10-07-2017 9:00 AM to 1:00 PM
Past
Camp Joy

Map this session
Coords: 38.5763005, -89.3961705
10700 Camp Joy Rd
Carlyle, Illinois 62231
Camp Warren Levis
Saturday 10-07-2017 9:00 AM to 12:00 PM
Past
Camp Warren Levis

Map this session
Coords: 38.9432962, -90.2259915
5500 Boy Scout Ln
Godfrey, Illinois 62035
Cape Girardeau
Saturday 10-07-2017 9:00 AM to 1:00 PM
Past
Cape County North Park

Map this session
Coords: 37.3455508, -89.5922249
2400 County Park Dr
Cape Girardeau, Missouri 63701
Mineral Area College
Saturday 10-07-2017 9:00 AM to 12:00 PM
Past
Mineral Area College

Map this session
Coords: 37.8400552, -90.4833341
5270 Flat River Rd
Park Hills, Missouri 63601
O'Fallon Sportmen's Club
Saturday 10-07-2017 9:00 AM to 3:00 PM
Past
O'Fallon Sportmen's Club

Map this session
Coords: 38.630173, -89.873143
1024 Scott Troy Rd
Lebanon, Illinois 62254
Sikeston Jaycees Golf Course
Saturday 10-21-2017 9:00 AM to 1:00 PM
Past
Sikeston Jaycees Golf Course

Map this session
Coords: 37.3570008, -89.5561079
3280 Perryville Rd
Sikeston, Missouri 63701
Phone: 573-334-2031