Broad Creek Cub Adventure Camp
Event Details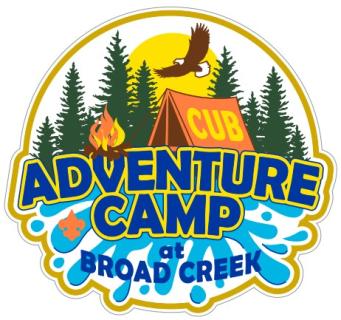 Broad Creek's introductory resident (sleep-away) camp program, tailored to meet the needs and interests of Cub Scouts and their families.
Cub Adventure Camp features age-appropriate outdoor learning activities. Each day, Cubs will wake up after camping with their family and Pack, split into dens for a day of round-robin programs at Broad Creek's outdoor learning facilities, then gather for exciting evening programs.
Every session will feature the following programs:
Boating

Outdoor Skills

Nature Activities

BB Shooting

Archery

Slingshot

Team Building Games

STEM

(Science, Technology, Engineering, and Math)

Swimming at the Pool

Arts & Crafts

Climbing

(Webelos & AoLs only)
Each session will also feature special evening programs:
Weekday (3-day running from Tuesday to Thursday): Campfire show, Pool Party
Weekend (3-day running from Friday to Sunday): Project MOOSE (overnight AoL outpost), Staff Hunt, Songfest
Webelos Week (6-day running from Tuesday to Sunday): Evening programs from both weekday and weekend sessions, with added open programs Thursday evening
All Cubs must come with supervision, either by a parent or by two-deep registered Pack leadership.
Before you register, please review our Frequently Asked Questions document available at www.broadcreekbsa.org/cubs to ensure you register with appropriate supervision.
When & Where
Webelos WeekCamp Saffran
Tuesday 07-23-2024 1:00 PM ET to
Sunday 07-28-2024 9:00 AM ET
---
WeekdayCamp Saffran
Tuesday 07-23-2024 1:00 PM ET to
Thursday 07-25-2024 3:00 PM ET
---
WeekendCamp Saffran
Friday 07-26-2024 1:00 PM ET to
Sunday 07-28-2024 3:00 PM ET