2023 Gunpowder Falls BALOO & IOLS
Event Details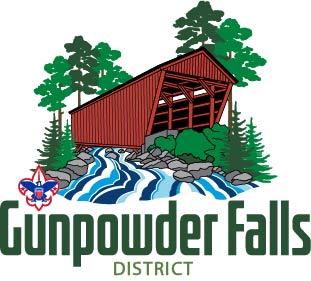 GUNPOWDER FALLS DISTRICT
April 21 & 22, 2023
Broad Creek Memorial Scout Reservation: Camp Saffran
1929 Susquehanna Hall Road, Whiteford, Maryland 21160
Cost $35**
This hands-on course is designed to introduce Scout Leaders to the basic skills they will need to safely and confidently have their Cub Packs/ Scout Units participate in Unit Adventures and Over-night Camping Trips.
Friday Evening 5:30 PM Check-in / 6 PM Program Start / Course end time is Saturday 8:30PM
Please eat dinner prior to your arrival. Tent set up for the program will start at 5:00 pm on Friday; the program will begin promptly at 6:00 pm.
Meals included in your course fee: Cracker barrel late on Friday; Saturday breakfast, lunch, light snack and GREAT dinner Saturday.
At check-in, please turn in a completed BSA Personal Health and Medical Record Parts A and B (available online, no doctor signature required).
Please let us know if you have any physical limitations or any special dietary or medical needs that we should be aware of.
Consult your Scout Handbook for personal gear you may need (that list is included on the back of this flyer, keep in mind that clothing needs vary with weather conditions). Your Troop or Pack should be able to lend you a tent or other gear, if you do not already have your own.
A compass, flashlight, pocket-knife, water bottle, camp mug, and folding camp chair will be very useful.
Please bring a note book and pen/ pencil.
Please wear your field uniform (Class A) if you have one. Bring your activity uniform (Class B).
Additional information will be send in the "welcome email" to all registered participants.
Registration closes mid-night April 15, 2023.
** If you are a registered & paid adult with your unit for GPF Camporee, the Course fee will be reduced to $20.00
(includes course materials, certificate, trained patch and one main meal)
---
REFERENCE: Boy Scout Handbook, section 9, Camping
Overnight gear, outdoor essentials, and appropriate clothing are the heart of camping equipment. Carry a light load of only what you need to keep yourself safe and make a good camp; leave all unnecessary items at home.
What to bring:
PERSONAL OVERNIGHT CAMPING GEAR
Scout Handbook
OUTDOOR ESSENTIALS CLEANUP KIT
Pocketknife Soap
First-aid kit Toothbrush
Extra clothing Toothpaste
Rain gear Dental floss
Water bottle filled with potable water Comb
Flashlight Washcloth
Matches and fire starters Towel
Sun protection
Map and compass EXTRAS (OPTIONAL)
Clothing for the season (warm-or cold-weather) Watch
Backpack/ Duffel Bag Camera and film
Rain cover for backpack Notebook or paper
Sleeping bag, or two or three blankets Pencil or pen
Sleeping pad Sunglasses
Ground cloth Small musical instrument
Gloves Camp Chair
EATING KIT
Spoon
Plate
Bowl
Cup
Please bring a printed copy of your favorite Utensil-less recipe. It could be breakfast, lunch or dinner.
Contact: Joe Krimm - jkrimm@gmail.com
When & Where
BALOOCamp Saffran
Friday 04-21-2023 5:00 PM ET to
Saturday 04-22-2023 8:30 PM ET
---
IOLSCamp Saffran
Friday 04-21-2023 5:00 PM ET to
Saturday 04-22-2023 8:30 PM ET