Event Details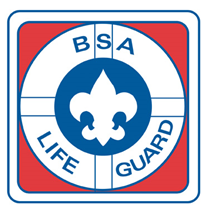 The purpose of the Boy Scouts of America (BSA) Lifeguard training program is to provide professional lifeguards for BSA operated facilities, council aquatics committees, and year-round aquatics programming. This training is also intended to meet the requirements of government agencies for operations at a swimming venue. The program is open to those age 15 and older. BSA Lifeguard is required for aquatics summer camp lifeguards and for those who wish to work as lifeguards for BSA year-round aquatics programs. This training is based out of Broad Creek Memorial Scout Reservation in Whiteford, MD. Red Cross CPR/First Aid/AED Certification is also included in the cost. Both certifications are good for 2 years.
Both Saturday sessions are required to complete the training. These pre-requisites are required:
Submit proof of age. You must be at least 15 years old to participate.
Submit written evidence of fitness for swimming activities (BSA Med Form Part A & B).
Train to be able to:

Swim continuously for 550 yards in good form using the front crawl or breaststroke or a combination of either, swimming on the back or side is not allowed.
Immediately following the above swim, tread water for two minutes with the legs only and the hands under the armpits.
Starting in the water, swim 20 yards using a front crawl or breaststroke, surface dive 7 to 10 feet, retrieve a 10-pound object, surface, swim on your back with the object 20 yards back to the starting point with both hands holding the object, and exit the water, all within 1 minute, 40 seconds.
When & Where
Weekend OneCamp Saffran
Saturday 06-10-2023
9:00 AM ET to 4:00 PM ET
Past
---
Weekend TwoCamp Saffran
Saturday 06-17-2023
9:00 AM ET to 4:00 PM ET
Past