Event Details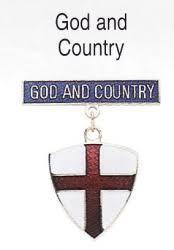 God & Country Class
Saturday, November 18, 2023
Calvary United Methodist Church, 2525 N. Rock Road.
Please Note: All denominations are invited, welcomed & encouraged to attend.
The purpose of the God & Country Class is for Scouts and their adult mentors (parents/guardians) to learn more about their relationship with God, their family, their church, and their Duty to God as Scouts. This event will provide Scouts the opportunity to earn the Jesus and Me (grades K-1), God and Me (grades 1-3), God and Family (grades 4-5), God and Church (grades 6-8) award for Protestant and Independent churches. We have added the God and Life Award (grades 9-12) * Note * Scouts will not complete the "God and Church" nor the "God and Life" Award in this one-day session. They will leave with a plan for finishing, and a mentor contact.
Upon finishing their course work, youth and adults can earn the Religious Knot, which is worn on their uniform while they are active in scouting.
An adult is required for each Jesus & Me and God & Me participant to assist with the course work.
Check in from 8:30 to 9:00 a.m. Saturday morning. Program begins at 9:00 a.m. and ends at approximately 4:00 p.m.
YOUTH FEE - $12.00 Registration includes book, lunch, and snacks.
ADULT FEE with Adult Mentor Award - $12.00 Registration includes book, lunch, and snacks.
ADULT FEE NO Mentor Award - $7.00 Registration includes lunch and snacks.
REMEMBER TO INCLUDE DIETARY RESTRICTIONS (if any) ON REGISTRATION!!!
Last day to register - Thursday, Nov. 9 at 12-Noon
Refunds are not available but are transferrable to another Scout or Adult.
Pre-registration is required for us to provide program materials to all participants. Event is open to ALL Quivira Council Scouts.
Liability, as well as Sickness and Accident Insurance are provided for all registered members of the BSA.
For questions or more information, please contact:
Marcia Bartlett, Event Director 316-250-2833 foxyscoutlady@gmail.com
Thomas Johnson, Council Staff Advisor 316- 841-0604 thomas.johnson@scouting.org
When & Where
Save the Date Calvary United Methodist Church
Saturday 11-18-2023 9:00 AM CT to 4:00 PM CT