2021 HYBRID/In-Person WFA/CPR - May 8
Event Details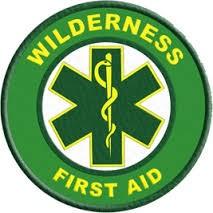 WILDERNESS FIRST AID and CPR/AED HYBRID Online & In Person
at Quivira Council Koch Service Center
WFA is recommended for BSA activities in remote back country settings where emergency response is more than 30 minutes away and meets BSA National High Adventure requirement (Philmont, Summit, Canoe Base & Sea Base) to have at least one trek participant "trained and certified in Wilderness 1st Aid."
Due to time constraints and the need to rapidly set up another course for Spring 2021, we will be offering a hybrid course. Instead of the usual 2 day of instructions and skills course, participants will be able to take the instructive portion on-line and complete the skills part in-person at the Council Office on May 8. CPR/AED will also be offered on May 8 for those who need it.
Here is how it works:
1. Sign up on Black Pug. Note that WFA and CPR/AED are separate.
2. We will need a unique e-mail address for each participant. This can be that of a youth or one of the parents. We can not use the same e-mail for two or more people.
3. Instructions on how to access and complete the on-line course will be sent to each person registered. You will have to set up an account with ECSI and purchase an access code*. (Listed at $40 but $24 for BSA.)
4. The online portion should be completed within 30 days of May 8. Print off the acknowledgement when finished. This must be brought to the skills session on May 8.
5. On May 8, we will do CPR/AED (That will all be in person.) from 8:30 AM to 10:00 AM and then spend the rest of the day finishing WFA. You will receive a physical copy of the WFA manual then and certificates and cards will be e-mailed afterwards.
Course is open to registered Adults & Youth (14 years and older) for Scouts, First Aid merit badge is recommended, but not required.
CPR/AED: Sat., May 8, 8:30am – 10:30am for those who need it.
WFA Skills: Sat., May 8, 10:30am – 5:00pm
$24

fee to ECSI* for on-line course.
$

50

fee for WFA and

$25

fee for Adult CPR/AED - an OPTION on WFA Participant registration. Payments made online by check or card. Fee includes texts, workbook, handouts, activity materials, a 2-year certificate, and lunch. (Register for CPR/AED only if you don't have a current certificate or just want to renew a current one now).
Pre-registration is required! Youth age 14-18 may now register online!!
Last day to register online – Friday, May 1.
Class Size is limited to 24 in total!
Please bring a pen/pencil, note paper and a current Annual Health & Medical form (Parts A & B only), Covid Waiver form. BSA uniform is recommended as this is a Scouting event. Please let us know ahead of time if you have any special dietary needs – as well as making note of it on the participant information. Find form on the Event info page of Black Pug.
IMPORTANT: Be sure you include your email in your registration! A participant letter will be e-mailed the week before to those for whom we have e-mail addresses.
More Questions? - Contact:
A Word About COVID: The pandemic will still be with us by mid-May but we anticipate and hope that it will settle down by then to the point where we can offer an in-person course in relative safety. We will still be taking precautions. (Masks, sanitizing hands, physical distancing as much as possible, etc.) Those who may be at higher risk of severe disease because of age and/or medical conditions, those who do not need it for high adventure this summer, and those who have not had the infection or are less than 1-2 weeks after being fully vaccinated might want to consider sitting this one out. It will be an individual or parenteral decision. Anyone who is ill or has not completed a quarantine period from COVID at the time of the course must not come. Refunds will be made in that case. The plan is to offer another course in the Fall and two next Spring.
When & Where
Koch Scout Service Center
Saturday 05-08-2021 8:30 AM CT to 5:00 PM CT