WB VIRTUAL District Pinewood Derby
Event Details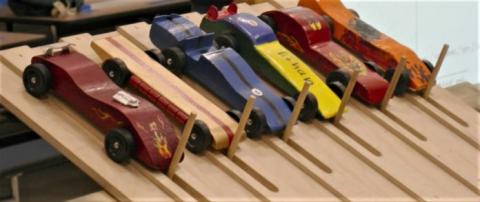 WB DISTRICT VIRTUAL
PINEWOOD DERBY!
Saturday, April 17, 2021 ♦ 1:00 - 4:00pm LIVE on Zoom
(link to be shared on WB District Facebook page an emailed to alll registered Packs)
Due to current restrictions, the 2021 WB District Pinewood Derby will be streamed online for families to watch from home! This is for the top racers of each pack in the WB District. One boy and one girl of each rank (Lion, Tiger, Wolf, Bear, Webelos, Arrow of Light) from each pack are eligible to race against others of their rank. The top 3 winners of each rank will receive a trophy!
Car drop off at the Quivira Council Koch Service Center offices APRIL 14-16 via sign-up genius - will be emailed to registered Packs
$7 until APRIL 5. $10 after after 4/5. Last Day to Register: SATURDAY, APRIL 10 ♦ No Walk-ins
Refunds are not available but may be transferred to another Scout under the same registration number.
Make sure you select rank based on year in school ♦ Pre-Registration is required and payments are made online.
Liability, Sickness and Accident Insurance are provided for all registered members of the Quivira Council.
For questions or more information, please contact:
Jeremy Baker 316-303-4149 or Jeremybaker747@gmail.com
Mindy Harris 316-491-7773 or Mindy.Harris@scouting.org
*This event may continue to change based on recommendations from the CDC, State of Kansas and Council Health Advisors. Please understand Council and District members will make everyone's safety our #1 priority.
**Schedule will be sent to Pack Cubmasters upon registration, before the drop off week.
When & Where
ZOOM
Saturday 04-17-2021 1:00 PM CT to 4:00 PM CT
Past