ESKIMO RUN - All Cub Scouts
Event Details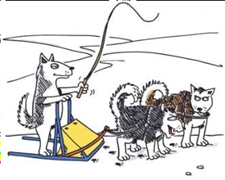 The 28th Annual Eskimo Run – for all Cub Scouts
NEW DATE - Saturday, MARCH 6, 2021 at the Lake Afton Pavillion
Eskimo Run is a fun activity for all Cub Scouts sponsored by White Buffalo District. This one-day Winter Olympics provides a chance to be active in the outdoors during the winter, competing at several activities and games.
Cub Scouts from each pack should form teams of 4 or 5 youth to participate (different ages / ranks can join in one den for the day). Many events are planned, some are new. Each team needs to bring their own sled (ones with runners are the best). Because this activity is designed for winter weather, be sure to dress appropriately: wear a hat & gloves, dress in layers, and wear proper footwear (no sneakers in snow or rain). Each person should bring a cup and a sack lunch or money for the Klondike Kafe (hot dogs, hot chocolate, etc.).
Only Cub Scouts are allowed to participate in the events.
Check-in begins at 8:30 a.m. Activities will begin at 9:00 a.m. and will conclude at Noon. This is an all-weather event so please Be Prepared. Eskimo Run will be held at Lake Afton Pavilion. Pack leaders are responsible for coordinating transportation: please arrive and depart together. Please have 1 leader per Pack check in Pack.
All packs must have paid, two-deep leadership in accordance with Youth Protection Guidelines, and all adults must have completed Youth Protection Training.
Fees are $6 / Cub Scout and $5 / registered Adult (includes event activities and patch).
(must have 2 adults registered for two-deep leadership)
Last day to register online is SATURDAY, FEBRUARY 27. - EXTENDED!!
Refunds are not available, but fees are transferable to another Scout or Adult under the same registration.
Pre-registration is required in order for us to provide patches to all participants. Event is open to all Quivira Council Packs. Registrations are not considered Booked until payment is made by credit card or electronic check.
Patches NOT guaranteed for participants registered/paid for after Saturday Jan. 30, 2021
Liability, as well as Sickness and Accident Insurance are provided for all registered members of the Quivira Council.
Need More Info? Please go to www.quivira.org – Things to do or contact:
Event Director: Adam Dunn rdunn@ebycorp.com
District Executive: Mindy Harris mindy.harris@scouting.org 316-491-7773
Covid-19 regulations will be observed to the best of our ability; masks & social distancing required. All attendees must provide a signed Quivira Council Covid-19 Waiver Form, gathered by Leader, and turned in at check in. Fillable form may be downloaded at www.Quivira.org. Those who do not have a signed form will not be allowed to attend the event.
When & Where
Lake Afton
Saturday 03-06-2021 8:30 AM CT to 1:30 PM CT