Event Details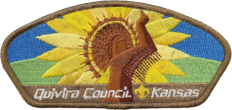 IRONSCOUT @ QSR
AUGUST 15 & 16
Quivira Council Scouts BSA and Venturing Units Only.
All Participants: $20.00
The overall idea is an Ironman competition combined with a Great Race. The patrol makes several stops all over the property, the way the patrol gets to each stop will vary. At each stop they check in get water and a "Token". (The tokens will be counted at the end of the heat). In addition, the Patrol will receive an envelope with a riddle they must solve to find the next stop. Once all the challenges are satisfied, each patrol's time will be tallied to determine the IRONSCOUT PATROL!
For Example: Your next challenge is near and close, down a hill – it's refreshing and cool - just a bike ride away. The Natives would drink there and often play.
The competition is for friendly fun ♦ The overall Winner will be the IRONSCOUT Patrol of 2020 ♦ 2 Scout Patrols – Any Combination may enter: Scouts BSA, Venturing, OA, Mixture of any 2 ♦ Participants will be timed as a Patrol – not individually

Required Items: 8 to 10 feet of rope + 2 bandanas or similar cloth + Water Bottle + A way to easily carry these items
Each Patrol will start off at the Troop Service Center at an assigned time – please be prompt. Times will be chosen by a lottery.
Time Penalties: Patrols must complete all stops and challenges
Each stop will have an item to take with you – all items will be counted at the end of your run.
Each Patrol will have several challenges in the IRONSCOUT competition – working as a patrol will be paramount.
Canoeing
Mountain Biking
Multiple Obstacles
Field Archery
Hiking
Interpreting written clues for the locations of challenges
Unit Participation: Each unit is asked to provide 1 or 2 individuals to help with the event. Your volunteer will serve to help operate a station or help with logistics and support. We will gladly accept more volunteers!
Check out the Leader / Participant Guide and get the Quivira Council COVID-19 Waiver Form under the "Attachments" area on the right of this page!
Adults must have current Youth Protection Training.
For more information and questions, please contact event leaders!
Roger Darrow – VP Program darrowroger@yahoo.com
Jo Irsik – Activities/Civic Service Chair – tshirtjo@yahoo.com
When & Where
Quivira Scout Ranch
Saturday 08-15-2020 11:00 AM CT to
Sunday 08-16-2020 1:00 PM CT
Past