Cub Scout Summer Camp - CCLT
Event Details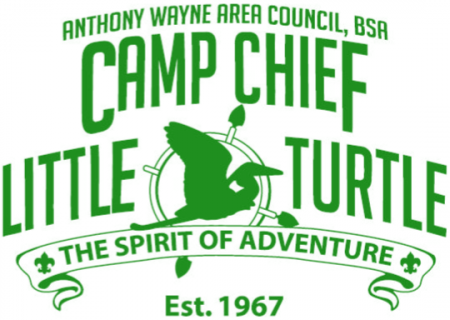 PARENTS PLEASE CONTACT YOUR PACK LEADERS ABOUT SUMMER CAMP REGISTRATION.
​Cub Scouts at Camp Chief Little Turtle invest three or four days in July at the 1,200 acre Anthony Wayne Scout Reservation.
From Means Canoe Base to Woodland Chapel to the giant Amphitheater overlooking Pit Lake, here you'll find the traditional summer Scout camp featuring ecology, conservation, Scoutcraft, and more, updated with all the modern activities you expect. Archery and B.B. guns, waterfront activities, and field events round out what both leaders and Scouts agree is a first-rate experience.
Campsite Matrix
Algonquin, Non-Tented
(capacity: 1 unit, 30 attendees)
Session 1
Session 2
Session 3
Apache A
(capacity: 1 unit, 30 attendees)
Session 1
3043 SU
4
Session 2
Session 3
Apache B
(capacity: 1 unit, 30 attendees)
Session 1
3009 PO
26
Session 2
3034 SU
19
Session 3

3082 LW
3726 LW
3
10
Apache C
(capacity: 1 unit, 30 attendees)
Session 1
3009 PO
1
Session 2
Session 3
Apache D
(capacity: 1 unit, 30 attendees)
Session 1
Session 2
Session 3
Chippewa, Non-Tented
(capacity: 1 unit, 30 attendees)
Session 1
Session 2
Session 3
Cree A, Non-Tented
(capacity: 1 unit, 30 attendees)
Session 1
Session 2
Session 3
Cree B, Non-Tented
(capacity: 1 unit, 30 attendees)
Session 1
Session 2
Session 3
Crow A
(capacity: 1 unit, 30 attendees)
Session 1
Session 2
110 LSC
11
Session 3
3149 WV
12
Crow B, Non-Tented
(capacity: 1 unit, 30 attendees)
Session 1
Session 2
Session 3
Crow C, Non-Tented
(capacity: 1 unit, 30 attendees)
Session 1
Session 2
Session 3
Crow D, Non-Tented
(capacity: 1 unit, 30 attendees)
Session 1
Session 2
3183 PO
11
Session 3
Crow E, Non-Tented
(capacity: 1 unit, 30 attendees)
Session 1
Session 2
Session 3
Delaware A
(capacity: 1 unit, 30 attendees)
Session 1
Session 2
Session 3
Delaware B, Non-Tented
(capacity: 1 unit, 30 attendees)
Session 1
Session 2
Session 3
Delaware C
(capacity: 1 unit, 30 attendees)
Session 1
Session 2
Session 3
Delaware D, Non-Tented
(capacity: 1 unit, 30 attendees)
Session 1
Session 2
Session 3
Fox A, Non-Tented
(capacity: 1 unit, 30 attendees)
Session 1
3307 SU
26
Session 2
3460 PO
22
Session 3
3111 PO
9
Fox B, Non-Tented
(capacity: 1 unit, 30 attendees)
Session 1
3322 SU
5
Session 2
Session 3
Huron A
(capacity: 1 unit, 30 attendees)
Session 1
Session 2
3169 PO
10
Session 3
Huron B
(capacity: 1 unit, 30 attendees)
Session 1
Session 2
3169 PO
11
Session 3
Huron C
(capacity: 1 unit, 30 attendees)
Session 1
Session 2
3089 LW
10
Session 3
Huron D
(capacity: 1 unit, 30 attendees)
Session 1
3828 LW
19
Session 2
3349 SU
11
Session 3
Huron E, Non-Tented
(capacity: 1 unit, 30 attendees)
Session 1
Session 2
Session 3
Huron F, Non-Tented
(capacity: 1 unit, 30 attendees)
Session 1
Session 2
Session 3
Iroquois A, Non-Tented
(capacity: 1 unit, 30 attendees)
Session 1
Session 2
Session 3
3365 SU
11
Iroquois B, Non-Tented
(capacity: 1 unit, 30 attendees)
Session 1
Session 2
Session 3
Iroquois C, Non-Tented
(capacity: 1 unit, 30 attendees)
Session 1
Session 2
Session 3
Iroquois D, Non-Tented
(capacity: 1 unit, 30 attendees)
Session 1
Session 2
Session 3
Iroquois E
(capacity: 1 unit, 30 attendees)
Session 1
Session 2
3088 LW
13
Session 3
Mohawk, Non-Tented
(capacity: 1 unit, 30 attendees)
Session 1
Session 2
Session 3
Shawnee A, Non-Tented
(capacity: 1 unit, 30 attendees)
Session 1
3049 PO
30
Session 2
Session 3
3081 LW
9
Shawnee B, Non-Tented
(capacity: 1 unit, 30 attendees)
Session 1
3049 PO
9
Session 2
3303 LW
23
Session 3
Winnebago A, Non-Tented
(capacity: 1 unit, 30 attendees)
Session 1
3186 PO
2
Session 2
Session 3
Winnebago B, Non-Tented
(capacity: 1 unit, 30 attendees)
Session 1
3430 SU
11
Session 2
3021 LW
2
Session 3
LEGEND
No units or participants registered for campsite
Campsite is reserved but has room for additional unit(s)
Campsite has reached unit or participant limit
When & Where
Session 1Camp Chief Little Turtle
Wednesday 07-21-2021 10:00 AM ET to
Saturday 07-24-2021 8:00 AM ET
Past
---
Session 2Camp Chief Little Turtle
Sunday 07-25-2021 10:00 AM ET to
Wednesday 07-28-2021 8:00 AM ET
Past
---
Session 3Camp Chief Little Turtle
Wednesday 07-28-2021 10:00 AM ET to
Saturday 07-31-2021 8:00 AM ET
Past