2023 Fall IOLS Training Weekend
Event Details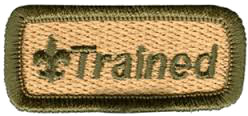 INTRODUCTION TO OUTDOOR LEADER SKILLS
October 14-15, 2023
Old Ben Campground
What skills are needed for a ScoutsBSA member to advance from Tenderfoot Scout to First Class Scout? What are the basic skills any Scout needs to survive in the great outdoors? Introduction to Outdoor Leader Skills teaches you those skills. A practical, hands-on approach to basic outdoor Scout craft skills is a must for a Scoutmaster, Assistant Scoutmaster, and Venture Crew Advisor to be successful.
When and Where Begins: Saturday, October 14 @ 7:30 AM (Central Time)
(Please eat before you arrive)
Ends: Sunday, October 15 @ noon (Central Time)
Old Ben Campground 5735 E County Road 175N, Winslow IN 47598
Cost: $30 Deadline October 7, 2023 (includes meals on Saturday & Sunday)
Scoutmaster Specific Training will be offered as an optional part of this course
What to Bring—Personal Camping, Equipment Scout Field Uniform, Scout Handbook Notebook, pencil, Weather appropriate clothing, Water bottle, cup, Flashlight, extra batteries, Sleeping pad, bag, blankets Tent w/poles, stakes, ground cloth, Small backpack Rain gear, Medical Form Parts A&B, Personal Gear Personal hygiene kit, Soap Washcloth & towel, Shower shoes, Laundry bag, and Hand Sanitizer.
Optional Gear: Face masks, Watch, Sunglasses, Insect repellent, Camera, Bible/prayer book.
When & Where
2023 Fall IOLSOld Ben Campground
Saturday 10-14-2023 8:00 AM CT to
Sunday 10-15-2023 11:00 AM CT