Event Details
Calling all brave Cub Scouts and daring young spirits.
Step into the mysterious world of spooky adventures! Welcome to the most thrilling, bone-chilling, and fun-filled camping experience available to young Scouts!
Our camps offer plenty of room to roam and explore, but beware, for this year, an enchanting yet spooky twist awaits you all! As the moon rises high, the 1980s horror theme takes on a kid-friendly, exciting twist. It's not about being scared, but about embracing the thrill of mystery and the excitement of the unknown.
Our limited capacity means you must act swiftly to secure your spot in this hauntingly delightful adventure! Let's embark on a spooky journey through our bewitching camp locations:
Camp Brorein – 350 Youth Participants - Saturday night Spooky Trail
Camp Soule – 250 Youth Participants - Saturday night Spooky Event
Sand Hill - 350 Youth Participants - Saturday night Trick or Treating and Spooky Events
Flaming Arrow – 350 Youth Participants - Saturday night Spooky Hay Ride
A weekend of magic and fun awaits, but spots are filling up fast! Gather your Pack and join us in this spooky 1980s horror-themed camping adventure for the little ones!
Register now, and let the fun begin... if you dare!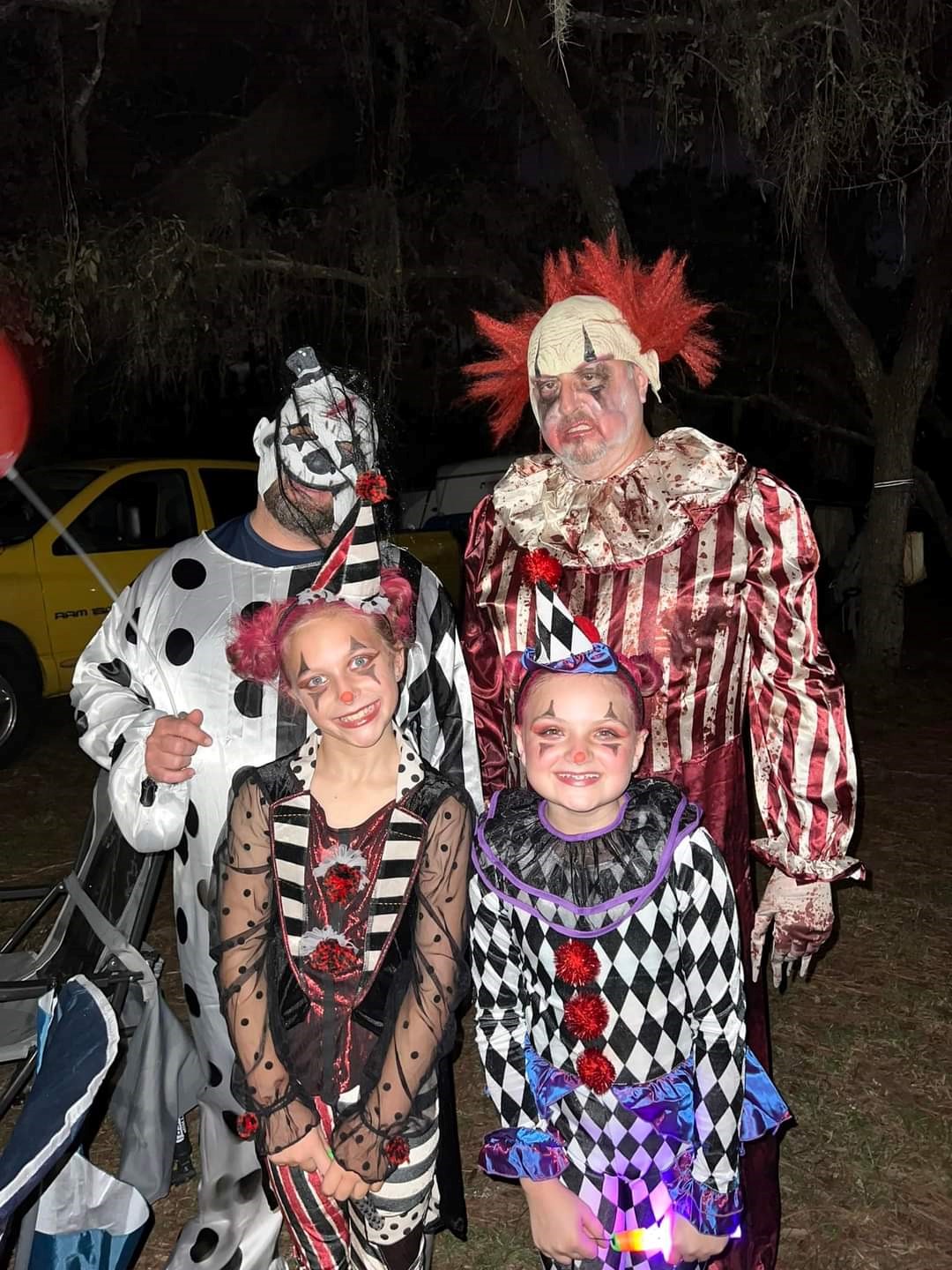 Dates
October 13-15, 2023 - Weekend with camping at Camp Brorein, Camp Soule, and Sand Hill
October 20-22, 2023 - Weekend with camping at Camp Brorein (

FULL

), Camp Soule (

FULL

), and Flaming Arrow
Pricing
Early Bird Pricing (Ends September 15th)
Siblings under 5 free
Full payment due by September 15th to receive the Early Bird Rate
Regular Pricing
Activities
Spider Obstacle Course
Constructing Frankenstein
Ecto Plasmic Factory
Shooting Sports (BB's & Archery)
Inflatable Obstacle Course
And many more!
Meal Plan
The optional meal plan costs an additional $25.
Saturday
Breakfast
Witch Fingers with Werewolf links, Poisoned Apples, with Ghost Milk and Juice (French Toast sticks, turkey sausage links, apples)
*Gluten Free Option- Eggs with Grits; Veggie Sausage
Juice, Milk, Coffee and Creamers
Lunch
Mummy Dogs, Creature from Black Lagoon tots, Carrot/Celery sticks (Corndogs, Tater Tots, carrot/celery sticks)
*Gluten free buns with dogs; Veggie dog with bun
Bug Juice and fruit
Dinner
Camp Crystal Lake Sandwich, Michael's Mac & Cheese, Carrots w/brown sugar and Salad Bar (Chicken Patty on a Bun, Mac & Cheese, carrots steamed with brown sugar and butter)
*Gluten free chicken breast on gluten free bun, gluten free pasta with cheese sauce; Veggie chicken
Bug juice and fruit
Saturday Cracker Barrel: Abominable Snowman Sundae (Ice Cream and toppings)
Sunday
Grab and Go Breakfast
Break free from the horror show survivor kit
Muffins, Go-Gurt, fresh fruit, cereal bars
Juice, Milk, Coffee and Creamers
T-Shirt/Merchandise Ordering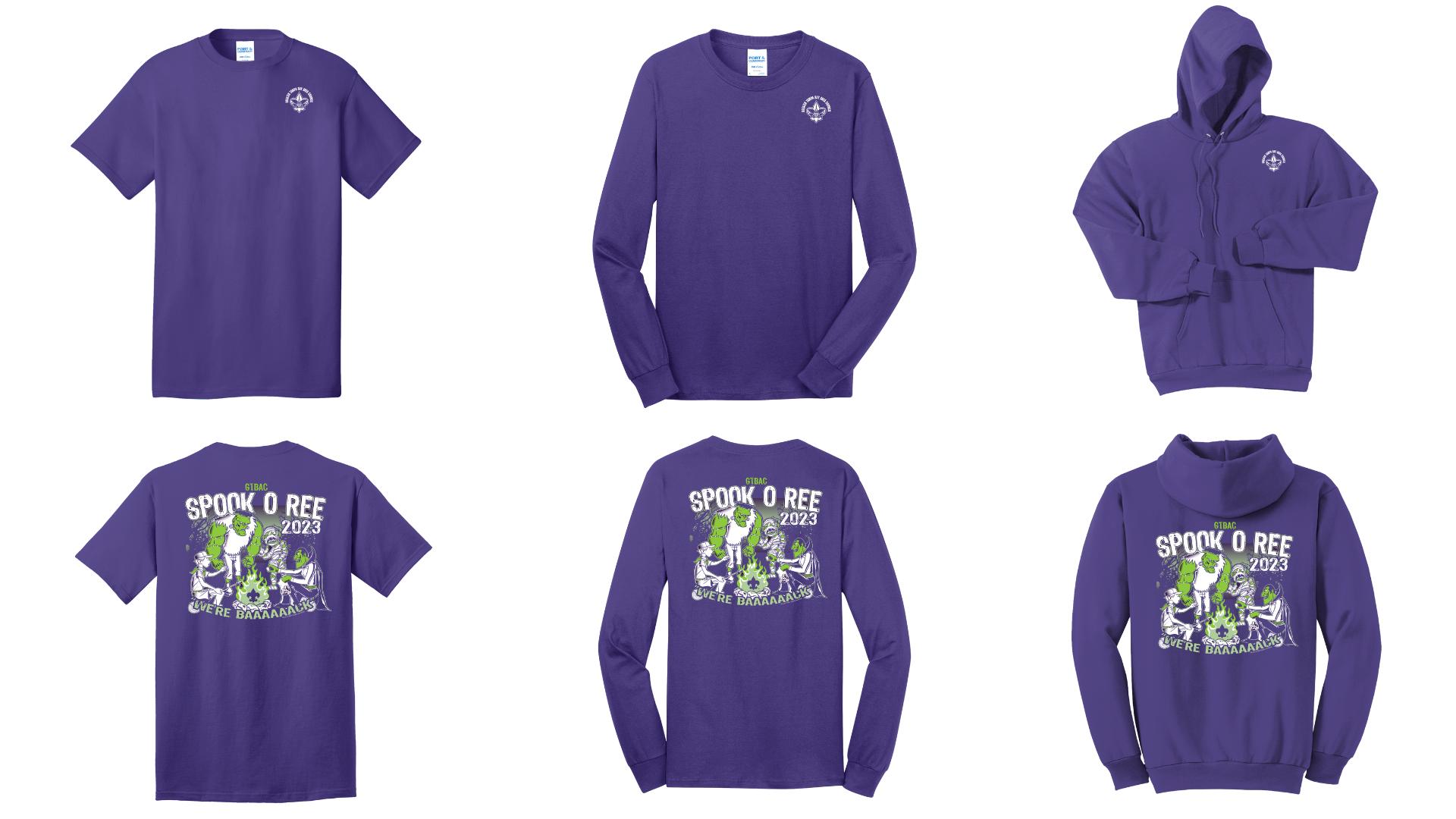 T-shirts will be available for pre-order only. You must order by September 22nd. Shirts will be available at the camp for pick up.T-shirt pricing is as follows $15 short sleeve, $18 long sleeve and $28 for hoodies. Please look under Greater Tampa Bay Area Council Trading Post during registration to purchase shirts.
If you want to order shirts without registering for the event, please check out our online store here: https://councilstuff.com/089-2023Spookoree.
Who Can Attend
All registered Lions, Tigers, Wolfs, Bears, Webelos, and Arrow of Light Cub Scouts are encouraged to attend so long as they have at least one parent or guardian who can attend with them. Other family members are welcome to attend, but their participation in events will be limited. If you are from out of council, feel free to join us!
Dietary Restrictions
The Greater Tampa Bay Area Council recognizes that there are many potential dietary restrictions as well as common diets (e.g., low-calorie and low-carbohydrate) and common food allergies (e.g., to gluten, citrus fruit, dairy, eggs, fish, nuts/ peanuts, and shellfish). Individuals will need to consider this and avoid such items in their choices in the dining hall. In addition, remember that the Food Team cannot feasibly plan for all specific dietary needs of all persons attending the event. Therefore, all special dietary needs must be indicated at the time of registration. Depending upon the special food requirements they may be asked to make their own arrangements to meet those needs by bringing their own food — just as they would bring their own medications. Any dietary requests made within 2 weeks of the event will not be able to be honored.
Volunteers
Please contact your camp director for the password to register as a volunteer. If you would like to volunteer and do not know the camp director, please contact David Gaul at: david@navfl.com.
When & Where
Camp Owen J. Brorein weekend 1Camp Owen J. Brorein
Friday 10-13-2023 6:00 PM ET to
Sunday 10-15-2023 12:00 PM ET
---
Camp Soule Weekend 1Camp Soule
Friday 10-13-2023 6:00 PM ET to
Sunday 10-15-2023 12:00 PM ET
---
Sand Hill Scout Res. Weekend 1Sand Hill Scout Reservation
Friday 10-13-2023 6:00 PM ET to
Sunday 10-15-2023 11:00 AM ET
---
Camp Owen J. Brorein Weekend 2Camp Owen J. Brorein
Friday 10-20-2023 6:00 PM ET to
Sunday 10-22-2023 11:00 AM ET
---
Camp Soule Weekend 2Camp Soule
Friday 10-20-2023 6:00 PM ET to
Sunday 10-22-2023 12:00 PM ET
---
Flaming Arrow Scout Reservation 2Flaming Arrow Scout Reservation
Friday 10-20-2023 6:00 PM ET to
Sunday 10-22-2023 12:00 PM ET