Journey to Adventure- Spring Break Mini Camp 2024
Event Details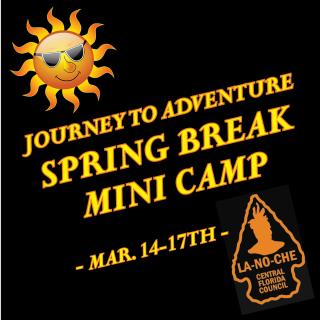 RESERVE YOUR CAMPSITE NOW!
MERIT BADGE PROGRAM & CAMP PROGRAM GUIDE POSTED!
SPRING BREAK MINI CAMP: "JOURNEY TO ADVENTURE"
Act Now! Stake claim for your unit and complete registration today for your upcoming "Journey to Adventure". A spring time adventure at Camp La-No-Che which allows Units and Scouts to mix and match programs, to get more out of their Spring Break! Whichever programs your Scouts select, they will be learning skills, having fun, and making memories with friends new and old alike. Opportunities exist for Scouts to attend as a unit, as well as individuals in our Provisional Units!
---
DATE:
Session- March 14-17, 2024
---
PROGRAM DETAILS:
Programs now available, with more experiences offered then ever before during Spring Break!
---
EARLY REGISTRATION FEES:
SCOUTS: $200*
PROVO: $225*
ADULTS: $60*
(must be paid 30 days prior to Camp Session)
---
ON TIME REGISTRATION FEES:
SCOUTS: $225*
PROVO: $250*
ADULTS: $75*
(paid within 29 days of Camp Session)
---
RESERVE YOUR CAMPSITE NOW:
Pay a Unit deposit of $100 to guarantee your campsite preference (payment goes towards final unti total).
---
PARTICIPANT REGISTRATION:
A $50 per Scout non-refundable deposit is due at registration
(all fees must be paid 30 days before your camp starts)
---
PROVISIONAL CAMPING:
If your Unit is not able to attend camp look no further than the Provisional Camper Program! Provisional offers a unique experience for Scouts to come together from different cities, councils, or even states to meet one another and have a great experience!
All programs are available to Provisional (Provo) Scouts as if they attended with their unit and we provide adult leadership to watch over them throughout their stay! The additional cost for Provo helps offset the cost for their two-deep leadership, and additional Troop Time Activities just for Provo Scouts. A complete list of these Activities and Troop Time schedule will be provided for Scouts and parents to review. See you at Camp La-No-Che.
---
ADDITIONAL PROGRAM FEES:
Camp La-No-Che does charge additional fees for some Merit Badge and Troop Time Activities, and Specialty Programs. These programs like ATV's and others in the winter are more expensive, due to material costs. A complete list of Troop Time Activities effected can be found in the Program guide, but some include: climbing, zip-lining, shotgun shooting, and para-cord bracelets due to the cost of supplies/facilities.
---
REFUNDS:
All deposits paid, either for campsite or participant are non-refundable deposits. To request a refund of other monies paid, you must submit a refund request form and meet the criteria listed in order to receive a potential refund. To review our complete Cancellation and Refund Policy, or to submit a Cancellation Request, please visit:
---
HEALTH & SAFETY:
The health and safety of our Scouting family will always be our top priority and Camp La-No-Che is prepared to provide a safe, fun environment for your Scouts. Our team has worked with multiple Council Committees to provide guidelines aimed at keeping everyone in attendance safe and healthy. Please be sure to review the Leader and Parent Guide for additional information, as well as the Program Guide when posted for programs and activities.
---
Here's your ticket to Adventure! Share it with your fellow parents, leaders, and Scouts, and let us know if there is anything we can do for you!
When & Where
Spring Break Mini CampCamp La-No-Che
Thursday 03-14-2024 5:00 PM ET to
Sunday 03-17-2024 2:00 PM ET