Event Details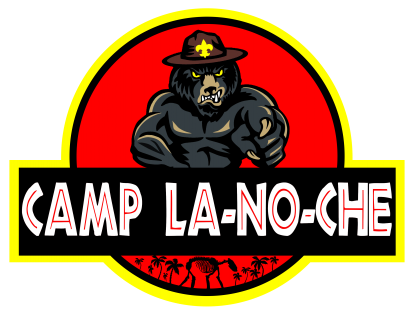 SUMMER CAMP 2019
A JURASSIC SUMMER
Join us for a summer adventure 36 million MINUTES in the making!
The Staff at Camp La-No-Che welcomes you to "A Jurassic Summer," a MONSTER of a summer camp experience! Brave the waters of Lake Norris as part of the LNYC Sailing Program; climb to new heights in our own "high hide" at the Adventure Tower; race through the jungles on an ATV; learn the skills you need to survive from Scouts and Native Americans; cook DINOSAUR over an open fire! You won't find a better camp experience anywhere...spared no expense!
The Leonard and Marjorie Williams Family Scout reservation has earned a reputation over the past sixty-nine years as the premier Scout Camp in Florida and the Southeast. Camp La-No-Che is located along the south edge of the Ocala National Forest, nestled on the shores of beautiful Lake Norris. Camp La-No-Che has many exciting programs, featuring outstanding facilities, and the best trained staff in the southeast. A week at Camp La-No-Che is the perfect opportunity to enjoy camping, learn self reliance, and acquire valuable Scouting skills. Camp La-No-Che is an increasingly popular choice among troops from other councils and even other countries. For some scouts a week is not enough. More scouts every year choose to return for a second or even third week as a Provisional scout each summer.
---
Download the
Program Guide Here
---
| Online Program Schedule | Class Attendee Counts | Online Class Catalog |
---
Summer Camp Fees, Deposits, and Refunds
NEW FOR 2019! READ CAREFULLY!
Reservations
Troops may place a reservation with $100 non-refundable deposit to hold their spot in their week of choice. Enter the estimated number of youth and adult attendees, as space is limited each week. A Troop's reservation is not secured until the $100 reservation deposit has been received. This non-refundable deposit will be applied to your Troop's total fee.

2019 Fee Schedule
Scout/Venturer Youth Fee = $320
A $50 per youth non-refundable deposit is due at registration.
This deposit MUST be paid before Scouts may select merit badges and programs.
Leaders = $100 per leader
Two leaders are free for 5-29 Scouts
Additional leader free for every 10 Scouts
(30 Scouts 3 free, 40 Scouts 4 free etc.)
There is NO LATE FEE for youth or adults. All youth require a $50 non-refundable deposit when registering; no "place holder" youth will be allowed and no deposits will be refunded. Youth may be added online up to one week before the start of your session; additional Scouts may be added within a week of camp by calling the camp office.
ALL FEES MUST BE PAID BY ONE-WEEK BEFORE YOUR SESSION OF CAMP STARTS OR YOUR SITE WILL BE FORFEIT.
Payments are accepted in the following methods:
Credit Cards or Debit Cards is a 3% additional fee
E-checks online is no additional fee.
Checks or Cash is no additional fee.
Cancellation Fees / Refunds
We understand that sometimes cancellations must happen. Youth and adults who must cancel their registration are subject to the following policies and limits:
NO DEPOSITS WILL BE REFUNDED UNDER ANY CIRCUMSTANCES. This includes site reservation deposits paid by the unit and per person deposits paid for each Scout.
Refund Requests MUST be made in writing using the appropriate form.
Refund requests made more than five (5) days after your registered camp session will NOT BE CONSIDERED. NO EXCEPTIONS!
Refunds will be limited to a MAXIMUM amount, less any deposit paid, according to the following structure:
Two (2) weeks or more before camp = 90% (up to $243.00)
Less than two (2) weeks until start of camp session = 75% (up to $202.50)
Up to five (5) days after camp session = 50% (up to $135.00)
Six (6) or more days after camp session = NO REFUNDS
Adult fees will be refunded at 100% of fees paid up to five (5) days after camp.
Discounts
Campers will have the opportunity to receive discounted camping rates based on the following conditions:
Campers attending LNC as a second week of camp or after a high adventure trip = Pay $300 (Save $20)
Campers who have one or more sibling(s) attending LNC as well = Each Camper Pays $300 (Save $20 each)
Camperships: APPLICATION AVAILABLE - CLICK HERE!
Scouts may apply for Camperships to cover up to 50% of their fees. Applications MUST be submitted by May 1. NO LATE SUBMISSIONS WILL BE CONSIDERED. Scouts will be notified at least TWO WEEKS before Camp begins. Adults are not eligible; all decisions are final.
Camp Cards
Camp Cards my be sold by Scouts to "earn" a FREE WEEK at Camp, valued at $320. Scouts selling Camp Cards may select "Selling Camp Cards" at the time of registering to "waive" the deposit. If they do not earn their way to camp, they will be REQUIRED to pay the remaining balance within TWO WEEKS of the end of the Camp Card sale.
When & Where
Week 4Williams Scout Reservation - Camp La-No-Che
Sunday 06-23-2019 12:00 PM ET to
Saturday 06-29-2019 10:00 AM ET
---
Week 5Williams Scout Reservation - Camp La-No-Che
Sunday 06-30-2019 12:00 PM ET to
Saturday 07-06-2019 10:00 AM ET
---
Week 6Williams Scout Reservation - Camp La-No-Che
Sunday 07-07-2019 12:00 PM ET to
Saturday 07-13-2019 10:00 AM ET
---
Week 1Williams Scout Reservation - Camp La-No-Che
Sunday 06-02-2019 12:00 PM ET to
Saturday 06-08-2019 10:00 AM ET
Past
---
Week 2Williams Scout Reservation - Camp La-No-Che
Sunday 06-09-2019 12:00 PM ET to
Saturday 06-15-2019 10:00 AM ET
Past
---
Week 3Williams Scout Reservation - Camp La-No-Che
Sunday 06-16-2019 12:00 PM ET to
Saturday 06-22-2019 10:00 AM ET