Specialty Week - Summer Camp 2018
Event Details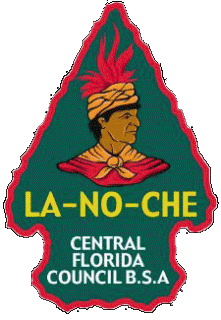 Camp La-No-Che: Specialty Week 2018
July 23 - July 27
A first-of-its-kind experience for Scouts of all ages! Come to Camp during this BONUS week, offering programs and activities not normally offered at Summer Camp. Get advanced instruction in shooting, sailing, and horsemanship; take a professionally designed course in Cooking, Engineering, and Mammal Study; explore the backwoods and waterways surrounding Camp La-No-Che. These 3-day intensive programs will take your Scouting experience to the next level while also qualifying you for Merit Badges*, additional awards and recognitions, and more. Many programs offered at Specialty Week were designed with the help of professionals at Skeletons: Museum of Osteology, iFly Orlando, Universal Studios, and others.
MERIT BADGE COMPLETION REPORT - CLICK HERE!!
PROGRAM FEES:
Youth: $200
Adults: $100
All participants will be charged a $25 non-refundable registration fee when they register. Anyone not paid in full BY MAY 1 will also be charged a $50 late registration fee.
Participating Scouts will choose 2 programs to focus their time on. Each program will feature a two days of study at Camp La-No-Che, along with an optional off-site trip to one of several locations, such as Universal Studios, iFly, or Skeletons: Museum of Osteology.
NEW CLASSES ADDED! PROGRAM UPDATE! CLICK HERE!
NEW!! "SCOUT & LEADER GUIDE" NOW AVAILABLE! CLICK HERE!!

CLASS SIGN UP WILL BE AVAILABLE MARCH 1, 8:30 AM. THOSE WHO MAKE A $25 DEPOSIT WILL HAVE FIRST CHOICE OF CLASSES! SIGN UP TODAY!
This special week is open to Units (Youth and Adults registering together) and to "provisional" participants (Youth registering without Adults). All campers, whether registering as a Unit or on their own, will be assigned a campsite by Camp Director Staff. Your Campsite Assignment will be communicated one week prior to the start of Specialty Week. Each Campsite will have 2 Camp Staff assigned to it, and at least 2 adults will also be assigned to the site to meet Youth Protection standards.
When & Where
Specialty Week at LNCCamp La-No-Che
Monday 07-23-2018 3:00 PM ET to
Friday 07-27-2018 11:45 AM ET
Past