Event Details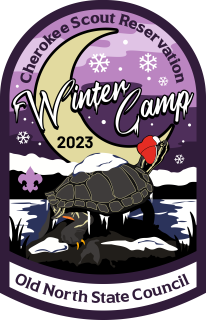 Winter Camp 2023: It's cooler!
December 27 - 30, 2023
Cherokee Scout Reservation
Registration closes at 11:59 pm on Tuesday, December 19, 2023.
Winter Camp provides Scouts an opportunity to earn merit badges and participate in activities not available during summer camp while practicing their cold-weather camping skills.
FOR EVERYONE
These are the required forms for all participants.
1) BSA Medical Form Parts A, B, C
Requires a doctor's signature
The physical form must not be dated before 12/01/2022
2) Pre-event Medical Screening Form
Must be completed the day you arrive in camp
If you are unwell, please do not attend
3) Shooting Sports Hold Harmless
For everyone who intends to participate in shooting sports activities while at winter camp
This includes youth and adults
Who: Winter Camp is open to Scouts BSA, Venturers, Sea Scouts, and their adult leaders
Scouts and adult volunteers may participate in winter camp with their unit, with our provisional unit, or as day campers.
Merit Badges & Activities
Over 25 merit badges, games, cracker barrels, an epic klondike derby, cold weather camping activities, campfires, and other unique programs such as ATV Power Sports, Muzzle Loading Rifle Shooting, Basic Life Support and First Aid Training, Introduction to Outdoor Leadership Skills (IOLS) and Wilderness First Aid.
Date: December 27 - 30, 2023
Fee Schedule
For Traditional Campers and Provisional Campers:
| | | |
| --- | --- | --- |
| Dates | Scouts | Adults* |
| If paid in full by 11:59 pm on November 28 | $240 | $150 |
| If paid in full after 12:00 am on November 29 | $265 | $150 |
*All units receive two free adults to ensure the unit is in compliance with BSA Youth Protection policies.
Units may use the Parent Portal tool in Black Pug to collect payment.
For Day Campers:
Scouts - $75 per day
Adults - $25 per day
Registration closes at 11:59 pm on Tuesday, December 19, 2023.
Leader and Family Information Session
We will host a leader and family information session via Zoom on Sunday, November 12 at 8:30 pm.
Register for the leader and family information session using this link.
Leader Guide
The 2023 Winter Camp Leader Guide can be found in the attachments on this page.
Can be found in the attachments in the lower right-hand corner of this page.

Merit Badge & Activity Enrollment:
During Winter Camp, most activities, merit badges and trainings take an entire day.
If you partake in adventures that last for an entire day, you will be able to participate in 3 activities/merit badges/trainings.
Some merit badges take two days. You must attend both days.

Rifle Shooting
Shotgun Shooting

Some trainings take more than one day. You must attend the entire course to receive credit.

Introduction to Outdoor Leadership Skills - IOLS (2 days)
Leave No Trace (3 days)

Scouts and adult leaders will be able to enroll in merit badges, activities, and training starting at 12:00 pm on Sunday, November 19.
Scouts must be paid in full in order to access merit badge enrollment.
Merit badge and activity enrollment will close on Tuesday, December 19 at 11:59 pm.
Memorabilia Pre-Order Deadline
Pre-order your winter camp t-shirt prior to 11:59 pm on Thursday, December 7.

Camping
During registration, the unit will request a campsite.
Campsite assignments will be made by the camp director to maximize the use of the Adirondacks
All campsites have electricity
Units will be able to build fires in designated fire circles
Scouts may use their own tents or hammocks. However, Scouts should be prepared for cold weather camping.
Access to Restrooms and Water
All of our shower houses have been retrofitted to allow access to running water in the bathrooms and shower rooms.
Units should plan to create a handwashing station within the campsite, as water that flows through exposed pipes will be shutoff...this includes exterior sinks on the shower houses and sinks in the campsite latrines.
Scouts will have access to sinks in the dining hall and other heated buildings.

Heat, Fire, Warmth
Some of our spaces have heat – OA Lodge, STEM Labs, Dining Hall, Headquarters, Health Lodge, Nature Lodge
Many of our instructional spaces will have access to fire – Handicraft lodge, FROGS Shelter, Scoutcraft, campsites
Patio heaters will be used to warm some exterior spaces such as the Dining Hall Shelter and Anderson Shelter.

Meals
Meals will be served in the dining hall
Meals begin with supper on December 27 and end with lunch on December 30
Campers will depart camp prior to supper on December 30
Indicate special dietary needs in the registration process.
Contact
Camp Director - Bud Harrelson at bud.harrelson@scouting.org.
When & Where
RegisterCherokee Scout Reservation
Wednesday 12-27-2023 2:00 PM ET to
Saturday 12-30-2023 6:00 PM ET