Event Details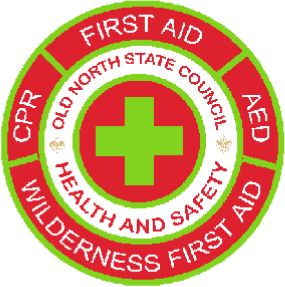 Health and Safety Training
2021
Old North State Council
1405 Westover Terrace
Greensboro, NC 27408
For questions related to any BSA CRP training, contact Nita Grubbs, nita.grubbs@scouting.org or 336.378.9166.
Class sizes are limited, so register early to assure a place in your desired course.
Registration deadline for all Standard First Aid with Adult and Child CPR/AED and Professional Rescuer CPR with Standard First Aid courses is the Thursday 2 weeks prior to the scheduled course.
First Aid/CPR/AED
Includes First Aid, Adult & Child CPR, and AED. Youth participants must be at least 14 years of age.
Scouts under age 18 must attend with a buddy or appropriate adult partner to meet BSA Youth Protection guidelines.
Youth needing transportation home will contact a parent prior to end of course. Parents should plan to arrive within 30-40 minutes to pick up their Scouts. Scouts cannot be left without adult supervision.
Failure to comply may result in a future requirement that a parent be with the youth for the entire day.
When & Where
ECSI CPRoFirst Aid with AdultCouncil Service Center
Saturday 09-25-2021 8:30 AM ET to 5:00 PM ET
---
ECSI CPRoFirst Aid with AdultCouncil Service Center
Saturday 10-23-2021 8:30 AM ET to 5:00 PM ET
---
ECSI Standard First Aid with Adult & Child CPR and AEDCouncil Service Center
Saturday 01-23-2021 8:30 AM ET to 5:00 PM ET
Past
---
ECSI Standard First Aid with AdultCouncil Service Center
Saturday 02-27-2021 8:30 AM ET to 5:00 PM ET
Past
---
ECSI Standard First Aid with AdultCouncil Service Center
Saturday 03-20-2021 8:30 AM ET to 5:00 PM ET
Past