Basic Life Support (BLS) and Standard First Aid Interactive
Event Details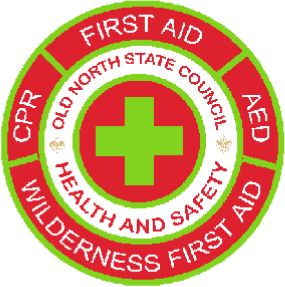 Health and Safety Training
2021
Old North State Council
1405 Westover Terrace
Greensboro, NC 27408
For questions related to any BSA CPR training, contact Nita Grubbs, nita.grubbs@scouting.org or 336.378.9166.
Class sizes are limited, so register early to assure a place in your desired course.
Basic Life Support (BLS) and First Aid Interactive training is a two part program that allows students to do much of their training online prior to coming to class. The online training does not need to be done in one session, but can be completed at your convenience.
The classroom portion will take you through the skills required for completion of the training.
BLS includes:
· Adult, Child and Infant CPR/AED
· Responsibilities of a rescuer
· Working with EMS
· Legal considerations
Standard First Aid now includes use of tourniquets and hemostatic dressings
Cost: $50.00
Register online. Emails will be sent to all registrants with information to access the online portion of your training. Be sure to register early enough to be able to complete all of the online portion (3 weeks recommended). You must come to class with your completion certificates in order to participate in the skills portion to complete your training. The skills portion is held at the Scout office.
Basic Life Support is replacing CPR for the Healthcare Provider/Professional Rescuer.
Basic Life Support (BLS) is the minimum level CPR certification required to complete or maintain your BSA Lifeguard certification and for health officers at district or council events.
This offering will include Standard First Aid.
Open to Scouts age 14 or older.
When & Where
BLS & SFACouncil Service Center
Saturday 11-20-2021 8:30 AM ET to 5:00 PM ET
---
ECSI Standard First Aid with Adult & Child CPR and AEDCouncil Service Center
Saturday 01-23-2021 8:30 AM ET to 5:00 PM ET
Past
---
ECSI Standard First Aid with AdultCouncil Service Center
Saturday 02-27-2021 8:30 AM ET to 5:00 PM ET
Past
---
ECSI Standard First Aid with AdultCouncil Service Center
Saturday 03-20-2021 8:30 AM ET to 5:00 PM ET
Past
---
ECSI BLS & SFACouncil Service Center
Saturday 09-25-2021 8:30 AM ET to 5:00 PM ET
Past
---
ECSI BLS & SFACouncil Service Center
Saturday 10-23-2021 8:30 AM ET to 5:00 PM ET
Past