2023 Yellowstone Anglers' Basecamp
Event Details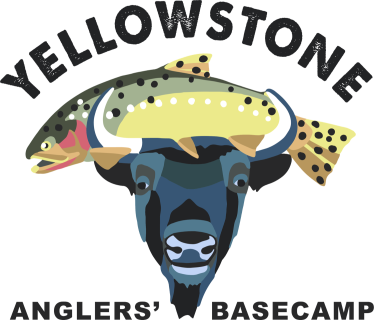 Yellowstone Anglers' Basecamp Registration for 2023 is open!
Contact: Tim Guilfoile, Yellowstone Anglers' Basecamp Director
tim@anglersbasecamp.org
859.652.0088
Yellowstone Anglers' Basecamp is located at Camp Buffalo Bill, a Boy Scout Camp along the banks of the North Fork of the Shoshone River, just
8 miles east of the eastern entrance to Yellowstone National Park and 45 miles west of Cody, Wyoming. This experience provides an opportunity for fly fishing clubs and individual anglers to experience some of the best fly fishing in the world at a very affordable price.
When: The camp runs weekly starting August 6, 2023, for 5 consecutive weeks. Reserve your choice of weeks at this spectacular fishing destination. Our capacity is 30 anglers per week.
Week 1: Aug 6 - Aug 12
Week 2: Aug 13 – Aug 19
Week 3: Aug 20 – Aug 26
Week 4: Aug 27 – Sept 2
Week 5: Sept 3 – Sept 9
Cost: The cost of the camp is $900 per person per week all inclusive.
What is included:
Three full, hot meals a day prepared by our onsite chef. Plus all the snacks and fruit you can eat.
Lodging in cabins or rooms located in buildings on the grounds of Camp Buffalo Bill.
Central bathhouse and some private rooms for couples that have access to private bathrooms and showers.
There are also 4 campsites for recreational vehicles with electric and water. Black water waste disposal is available at the camp.
Transportation to and from just about any fly fishing destination in the region.
Laundry facilities.
Transportation to and from Yellowstone Regional Airport in Cody, WY.
Some Money Saving Tips if You Want to Fly
For those who are interested in flying, we will be providing a shuttle service between Billings-Logan Airport in Billings, Montana and camp. The ticket prices are frequently much cheaper and there are many more choices of airlines that service Billings.
If you do choose to fly into Billings, we would ask that you cluster your arrival times in Billings around 12:00 noon plus or minus an hour or two so that pick up is most efficient.
You may also find that flying in on a Saturday is cheaper than flying on a Sunday. The money you save flying on a Saturday may justify making a hotel reservation in Billings for Saturday night. We will have a van and driver in Billings on Saturday to pick you up and take you to your hotel, fly shops, fishing, dinner, and other activities. Then we will shuttle you to camp on Sunday. If you do decide to fly into Billings on Saturday, please choose a hotel/motel that is close to the Cabela's at, 4550 King Ave E, Billings, MT 59101.
The drive from camp to Billings is about 2.75 hours, so we ask that you cluster departure times around 11:00 AM or after so that you don't have to get up at 3:00 AM to get to a departing flight.
Participants should bring:
· Sleeping Bag or Sheets/Blankets
· Personal Toiletries & towel
· Fishing Tackle
· A detailed packing guide will be supplied to all those who register for the camp.
Cancellation Policy – Yellowstone Anglers' Basecamp 2023
Prior to March 31, 2023, deposits will be refunded minus a $100 per person administrative fee. On a one-time basis, reservations may be transferred to the next year with no loss of your deposit. However, your rates will adjust to next year's rates. After March 31, 2023, deposits are non-refundable. If we can rebook the reservation, we will refund your deposit less a $100 per person administrative fee.
Fishing Opportunities & Surrounding Scenery
North Fork Shoshone
The Shoshone River is one of the finest blue ribbon, freestone trout fisheries in the country. The 52 mile stretch of the Shoshone River between Cody, Wyoming and the east entrance to Yellowstone is referred to locally as the North Fork. Teddy Roosevelt called it "the most scenic 52 miles in America." Native Yellowstone cutthroat trout, rainbow trout, mountain whitefish, brook trout and brown trout can all be caught from public land access sites along its entire border.
Other fishing opportunities:
Bighorn River
Wind River
Greybull River
Gibbon River
Firehole River
Madison River
Slough Creek
When & Where
Session 1Camp Buffalo Bill
Sunday 08-06-2023 12:00 PM MT to
Saturday 08-12-2023 11:00 AM MT
Past
---
Session 2Camp Buffalo Bill
Sunday 08-13-2023 12:00 PM MT to
Saturday 08-19-2023 11:00 AM MT
Past
---
Session 3Camp Buffalo Bill
Sunday 08-20-2023 12:00 PM MT to
Saturday 08-26-2023 11:00 AM MT
Past
---
Session 4Camp Buffalo Bill
Sunday 08-27-2023 12:00 PM MT to
Saturday 09-02-2023 11:00 AM MT
Past
---
Session 5Camp Buffalo Bill
Sunday 09-03-2023 12:00 PM MT to
Saturday 09-09-2023 11:00 AM MT
Past
---
Camp Buffalo Bill
Thursday 09-07-2023 12:00 AM MT to
Monday 09-11-2023 11:59 PM MT
Past