2023 Yellowstone High Adventure Outpost
Event Details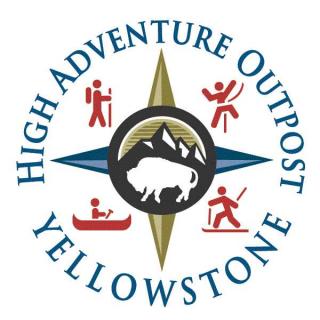 The Adventure West Council would like to welcome you to Yellowstone High Adventure Outpost at Camp Buffalo Bill
The Yellowstone High Adventure Outpost provides a premier High Adventure experience for independent crews and scouts at CBB who are ready for the adventure of a lifetime in the largest contiguous wilderness in the lower 48.
Camp Buffalo Bill is located 43 miles west of Cody, Wyoming on US Highway 14/16/20 and just eight (8) miles east of Yellowstone National Park along the banks of the Shoshone River.
The incredible Wapiti Valley between the North Absaroka and Washakie Wilderness areas provides a setting where beauty and wildlife abound. This was the playground for William "Buffalo Bill" Cody and now it's ours to share with you.
Yellowstone High Adventure Outpost Schedule:
Week 1: June 4-10, 2023 (No Summer Camp Week)
Week 2: June 11-17, 2023 (CBB Week 2)
Week 3: June 18-24, 2023 (CBB Week 3)
Week 4: June 25-July 1, 2023 (CBB Week 4)
Week 5: July 2-8, 2023 (No Summer Camp Week)
Week 6: July 9-15, 2023 (CBB Week 6)
Week 7: July 16-22, 2023 (CBB Week 7)
Week 8: July 23-29, 2023 (CBB Week 8)
When & Where
Week 1Camp Buffalo Bill
Sunday 06-04-2023 12:00 AM MT to
Saturday 06-10-2023 11:59 PM MT
---
Week 2Camp Buffalo Bill
Sunday 06-11-2023 12:00 AM MT to
Saturday 06-17-2023 11:59 PM MT
---
Week 3Camp Buffalo Bill
Sunday 06-18-2023 12:00 AM MT to
Saturday 06-24-2023 11:59 PM MT
---
Week 4Camp Buffalo Bill
Sunday 06-25-2023 12:00 AM MT to
Saturday 07-01-2023 11:59 PM MT
---
Week 5Camp Buffalo Bill
Sunday 07-02-2023 12:00 AM MT to
Saturday 07-08-2023 11:59 PM MT
---
Week 6Camp Buffalo Bill
Sunday 07-09-2023 12:00 AM MT to
Saturday 07-15-2023 11:59 PM MT
---
Week 7Camp Buffalo Bill
Sunday 07-16-2023 12:00 AM MT to
Saturday 07-22-2023 11:59 PM MT
---
Week 8Camp Buffalo Bill
Sunday 07-23-2023 12:00 AM MT to
Saturday 07-29-2023 11:59 PM MT