Schoepe Scout Reservation at Lost Valley Summer Camp 2023
Event Details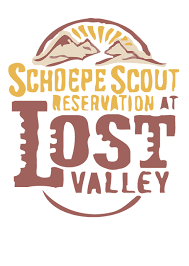 GET LOST
at Schoepe Scout Reservation at Lost Valley Summer 2023!
Tucked away in the hills of the Anza Borrego Desert, the environment at Schoepe Scout Reservation at Lost Valley provides nearly unlimited opportunities for adventure. If you haven't attended OCBSA's premier camping facility, join us in 2023!
With nearly 40 Merit Badges offered, Lost Valley makes it easy for Scouts to discover and develop what they like to do. Whether that is zip lining and horseback riding or ATV riding and rifle shooting, the Valley has it all. And, the friends they make will last a lifetime!
We can't wait to see you lose yourself in the adventure of Lost Valley!
All Troops must have a minimum of two adult leaders in camp at all times. There are no partial week rates, however, adults may share reservations.
**Maverick campers sign ups are avilable for week 2 and 4!**
Early Bird Pricing of $529 per Scout and $329 per Adult is available through December 31, 2022!
As of January 1, 2023 prices will be $550 per Scout and $350 per Adult
Campsite Matrix
Anza
(capacity: 1 unit, 18 attendees)
Week 1
211G VHC
11
Week 2
226G OCC
10
Week 3
5B SDIC
9
Week 4
271B SDIC
12
Week 5
Big Pine
(capacity: 1 unit, 32 attendees)
Week 1
210B VHC
37
Week 2
Week 3
Week 4
Week 5
Cedar Glen
(capacity: 2 units, 38 attendees)
Week 1

134B LBAC
134G LBAC
33
14
Week 2
355B SDIC
12
Week 3

606B RS
606G RS
10
11
Week 4
Week 5
Coulter Flat
(capacity: 1 unit, 14 attendees)
Week 1
270B GW
10
Week 2
Week 3
2010B SDIC
7
Week 4
Week 5
Hidden Creek
(capacity: 2 units, 28 attendees)
Week 1
36B CA
25
Week 2
24G SDIC
9
Week 3

324G SDIC
324B SDIC
10
18
Week 4
Week 5
Leaning Pine
(capacity: 1 unit, 20 attendees)
Week 1
675G RS
14
Week 2
Week 3

1134B PA
1134G PA
7
5
Week 4
858B VCC
13
Week 5
Manzanita Flats
(capacity: 2 units, 52 attendees)
Week 1

32B REC
32G REC
42
10
Week 2
77B CIEC
5
Week 3
655B CIEC
31
Week 4
2222B WLACC
24
Week 5
Meadow View A
(capacity: 1 unit, 26 attendees)
Week 1
959B SDIC
47
Week 2
7033B GCC
19
Week 3
801B SDIC
21
Week 4
130B SDIC
9
Week 5
Meadow View B
(capacity: 1 unit, 26 attendees)
Week 1
Week 2
9033G GCC
11
Week 3
784B SDIC
23
Week 4
789B GLAAC
13
Week 5
Split Pine
(capacity: 1 unit, 20 attendees)
Week 1
Week 2
Week 3
Week 4
Week 5
Tremblay Oaks
(capacity: 1 unit, 20 attendees)
Week 1
3B CIEC
17
Week 2
Week 3
1232B VA
9
Week 4
Week 5
Valleys End
(capacity: 1 unit, 16 attendees)
Week 1
438B GLAAC
23
Week 2
Week 3
Week 4
Week 5
LEGEND
No units or participants registered for campsite
Campsite is reserved but has room for additional unit(s)
Campsite has reached unit or participant limit
When & Where
Week 1Schoepe Scout Reservation at Lost Valley
Sunday 06-25-2023 1:00 PM PT to
Saturday 07-01-2023 10:00 AM PT
Past
---
Week 2Schoepe Scout Reservation at Lost Valley
Sunday 07-02-2023 1:00 PM PT to
Saturday 07-08-2023 10:00 AM PT
Past
---
Week 3Schoepe Scout Reservation at Lost Valley
Sunday 07-09-2023 1:00 PM PT to
Saturday 07-15-2023 10:00 AM PT
Past
---
Week 4Schoepe Scout Reservation at Lost Valley
Sunday 07-16-2023 1:00 PM PT to
Saturday 07-22-2023 10:00 AM PT
Past
---
Week 5Schoepe Scout Reservation at Lost Valley
Sunday 07-23-2023 1:00 PM PT to
Saturday 07-29-2023 10:00 AM PT
Past