HAT: Basic Backpacking Course
Event Details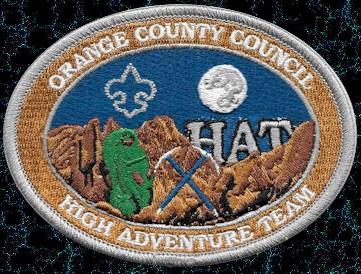 ORANGE COUNTY COUNCIL-HIGH ADVENTURE TEAM ANNOUNCES
FALL BASIC BACKPACKING COURSE…SEPTEMBER 24-26, 2021.
COVID-19 PANDEMIC MODIFIED COURSE*
Whatever your level of backpacking experience, from none to expert, this course will provide you with important information to get started guiding Scouts on a backpacking trek. This course will also teach important COVID-19 practices for Scouts and Scouters in the outdoors which are applicable to camping, hiking, and backpacking.
THREE PART COURSE*
Part 1 – OUTDOOR CLASSROOM TRAINING (FRIDAY NIGHT SEPTEMBER 24 VIRTUAL PRESENTATION and SATURDAY DAY SEPTEMBER 25 OUTDOOR SESSIONS). Outdoor classroom training will be conducted at the IRVINE RANCH OUTDOOR EDUCATION CENTER, 2 Irvine Park Road, Irvine, CA 92869, and consists of demonstrations and equipment round robins covering backpacks, tents, clothing, footwear, sleeping systems, stoves and cook gear, wilderness electronics, backpack cooking and food, water treatment, map and compass, critter encounters and food protection, planning a backpack with Scouts including adult leadership, and implementing "High Adventure" into your unit.
Part 2 – DAY HIKE WITH INSTRUCTORS (Sunday, SEPTEMBER 26). The day hike will include map and compass fieldwork.
Part 3 – WEEKEND OVERNIGHTER WITH INSTRUCTORS (dates throughout October and November). Dates will be set by August 1, 2021.
COURSE COST: $75…roster limited to the first 35 students who sign up…openings as cancellations occur.
*Due to the possibly ongoing COVID-19 Pandemic, Part 1 may be conducted outdoors, observing all current Orange County Council Boy Scouts of America mitigation and safety protocols. For details, go to the first link listed above.
When & Where
Zoom OrientationTBD
Friday 09-24-2021 7:00 PM PT to 8:30 PM PT
Past
---
Outdoor ClassroomIrvine Ranch Outdoor Education Center
Saturday 09-25-2021 8:00 AM PT to 4:00 PM PT
Past
---
Day HikeTBD
Sunday 09-26-2021 7:00 AM PT to 3:00 PM PT
Past
---
Overnighter TBD October/NovemberTBD
Monday 09-27-2021 7:00 AM PT to 3:00 PM PT
Past