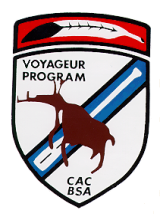 VOYAGEUR
Canoe Training & Paddle Craft Safety for Adults
Who: All registered adult Scouters
Objective: To prepare adults to take the Voyageur program back to the Troop and conduct safe canoe outings including High Adventure trips. To hold the older boys' interest and keep them active in the Scouting program. To encourage younger boys to earn rank advancement. To provide canoeing adventure for Venture Crews.
SPECIAL VOYAGEUR PROMO! Bring a Friend - Cut your cost!
For the 2014 Voyageur season we will be continuing a price break for our Scouters who bring along a friend. Our normal cost is $79.00 for the two weekend course. If you bring a friend we will cut the cost to $140.00 for two. Please attach this flyer to both your applications when you submit them identifying who your partner is for the upcoming Spring or Fall course. You must both attend the same course in order to qualify.
See attached flyers for more information.
---
Paddle Craft Safety Certification - CHALLENGE TESTING
How can you obtain or renew the new BSA Canoe Paddle Craft Safety Certification '
1. Adult leaders are encouraged to attend the Voyageur Adult Leader Training program (conducted at Camp Belzer twice each year). All certification requirements (except the swimmer test) are taught during the course, and certification testing is conducted.
2. Adults who have completed the four-day Voyageur training program may need only return for their fifth (returnee / assistant instructor) day, and pass the written test at the end of the day after a review of material.
3. Adults who have completed all five days of the Voyageur training program (have obtained the Instructor Arc) within the previous three years (six courses) need only return the second Saturday of a scheduled course, and pass the written test after a review of the material.
4. Adult leaders and youth members who are confident they can pass the performance and written requirements may "challenge" the test.

See attached flyer for more information.
Dave Bardos
davidbardos50@gmail.com

Sherry Webb
Program Assistant
swebb@crossroadsbsa.org
(317) 813-7117

Jay Soucy
Training Director
jsoucy@crossroadsbsa.org
(317) 813-7095

Golden-Burke Scout Center
7125 Fall Creek Rd N
Indianapolis, Indiana 46256
Phone: 317-813-7125

Multiple dates to choose fromWEEKEND #1/April 26 & 27 --- WEEKEND #2/May 3 & 4
Saturday 04-26-2014 7:30 AM to
Sunday 05-04-2014 4:00 PM
Past
Camp Belzer

Map this session
6102 Boy Scout Rd
Indianapolis, Indiana 46226
Phone: 317-546-6031
BRING A FRIEND PROMO!
Saturday 04-26-2014 7:30 AM to
Sunday 05-04-2014 4:00 PM
Past
Camp Belzer

Map this session
6102 Boy Scout Rd
Indianapolis, Indiana 46226
Phone: 317-546-6031
PADDLE CRAFT ONE DAY CHALLENGE TESTING - Spring Class
Saturday 05-03-2014 7:15 AM to 5:00 PM
Past
Camp Belzer

Map this session
6102 Boy Scout Rd
Indianapolis, Indiana 46226
Phone: 317-546-6031