Citizenship in the Nation Merit Badge Workshop
Event Details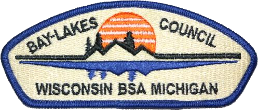 Join us for a day of learning about your Citizenship in the United States while earning a required badge for Eagle Scout.
Cost $20.00/Scout
Lunch will be provided.
All elements of the badge will be met during the day. Bring your Blue Cards with you to be signed at the end of the event.
Prerequisite Skills to Participate: You must have visited or toured a place that is listed as a National Historic Landmark or that is on the National Register of Historic Places or tour your state capitol building or the U.S. Capitol.
National Historic Landmark Possibilities in our area: USS COBIA in Manitowoc; Little White Schoolhouse in Ripon; Oconto Site in Oconto; Namur Historic District in Namur Door County; Or others listed at the following website.
Contact Kris Cairns at (715) 509-0014 with registration questions.
Questions regarding requirements of the badge can be directed to Lynn Schaal at (920) 619-1989.
Registration and fee due by January 1st, 2022. Registration after that date will not be accepted. Seating is limited so get your registration in early. There will be no refunds for cancellation or inability to attend after 1/1/2022.

Hosted by: BLC, GW
When & Where
When: 01-08-2022 9:00AM to 3:00PM

Where: Bonduel High School
400 W Green Bay St
Bondeul, WI 54107

Attachments