Event Details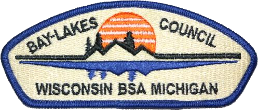 Learn the process and guidelines for your journey of Life Scout to becoming an Eagle Scout.
Topics will include:
How to get started with the Service project and final paperwork
Service project approval process
Project Management in a nutshell
What the Board of Review is all about
Eagle Scout Court of Honor
Review and bring the following items to the session:
Print these from the Bay-Lakes Council Web site,
http://www.baylakesbsa.org/resources/eagle-scout-information
Eagle Scout Leadership Service Project Workbook
Eagle Scout Rank Application
(Youth) Eagle Candidate Guide or (Adults) Guide for Leaders of Eagle Scout Candidate
Pen and paper
To Register:
Send email to Joyce Goldhahn, jgoldhahn@aol.com, 920-468-1975, if you plan to attend this session. Provide the following information for people attending the session: name, troop number and whether or not you are a Scout or adult.

Hosted by: VY
When & Where
When: 11-02-2019 8:30AM to 12:30PM

Where: Foth
2121 Innovation Court
Depere, WI 54115